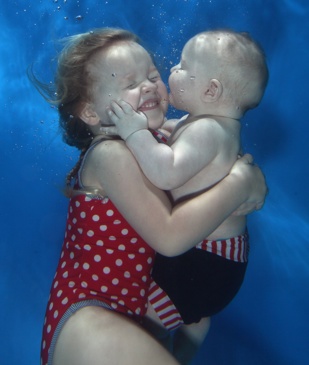 Our underwater photoshoots are a firm favourite with many parents.
The resulting pictures are often cherished by families for many years after they are taken, taking pride of place on the mantlepiece or in family albums.
These professionally taken photos capture the bubbles, smiles and splashes forever, and can provide happy reminders of your child's younger years and the fun they had learning to swim.
What happens at an underwater photo session?
We make the sessions as relaxed and enjoyable as possible
We always put the welfare of your little one first, and will not submerge a distressed child
You can go in the water with your child, just like in your usual Puddle Ducks class
You can have your photo taken under water with your child if you wish
It's important to note:
Floaties and Splashers are usually very comfortable during the session
Some Kickers and Little Dippers may not enjoy going underwater in front of a camera with teacher they're not familiar with
Dippers and Dabblers usually love swimming under the water towards their parents, although occasionally some do not like the lighting or camera
Finally, we do our very best to make sure you have a gorgeous photo to take home with you!
N.B. For child protection reasons we don't allow photographs to be taken during our classes and spectators aren't allowed to bring cameras or use mobile phones during our swimming lessons.
You'll know if your child will enjoy an underwater photo shoot if you can answer yes to these questions:
Have you been coming to Puddle Ducks for at least six weeks?
Is your child happy being submerged (put underwater)?
Is your child happy to be handled by a teacher they do not recognise? We can't always guarantee your child will have their regular teacher present on a photo shoot.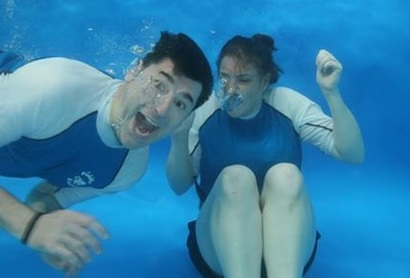 For more information please contact us using the form below and one of the team will be happy to advise you - or call us on 01892 617246.
Our frequently asked questions section is a great place to find all the answers you need, including information on our children's swimming programmes and more.
All of the photos on this page have been taken from our own shoots. We love our parents and their Puddle Ducks to have FUN!
The next under water shoots in West Kent & East Sussex are:
Sevenoaks: New Beacon School Sunday 9th April 2017. Morning Shoot
Brighton: Ovingdean Hall College, Sunday 4th June 2017. Timings TBC

Tunbridge Wells/Crowbrough: Bowles, Saturday 28th October 2017. Morning Shoot