Clive was delighted to receive the Puddle Ducks Franchise of the Year award for 2017 at the Puddle Ducks Annual Conference, held at the De Vere Cranage Estate in Cheshire.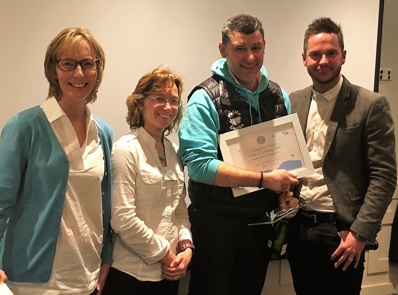 The award was presented by Neil Clough, The Apprentice finalist from 2013 whose business plan, according to Lord Sugar, was so poor "I may as well take that £250,000 and put it in a slot machine". Since then, Neil has gone on to launch his own successful recruitment business and he gave a memorable speech before presenting the award.
Thankfully there was significantly more substance to Clive and Lindsay's business plan and during the past four and a half years they have grown their business from just the two of them - with Clive doing all the teaching and Lindsay managing all of the administration and Poolside Assisting - to now employing over 30 staff; teaching upwards of 30 swimming sessions a week from 14 different venues from Maidstone to Brighton.
It wasn't just the rapid growth of their business that moved Puddle Ducks founders Tracy Townend and Jo Stone to give the 2017 award to Clive and Lindsay. Both are heavily involved with projects which are helping to drive the Puddle Ducks national brand and business forwards. Clive helped out with presenting a series of instructional 'how to' videos used to give progression and safety instruction to parents who may not be able to attend lessons. He is also on the National Marketing Council and is part of the Social Advertising Pilot. Lindsay is on the working group to improve and further refine the new booking and customer service software which has just been launched.
Sadly as the conference was on a school day, Lindsay wasn't able to attend in person to receive their joint award. When asked how he felt, Clive's response was "I'm honoured and delighted to receive the award - but I feel a fraud as the boss isn't here to collect it herself!"