A Week in the Life of Senior Teacher Zara
Its a real struggle to describe a 'week in the life of me' in one sentence, but in three words I would say; rewarding, exciting and different. Despite teaching the same lesson plan for each specific week, no two lessons are ever the same and that is one of the most enjoyable factors of my job. Each child makes every lesson experience different. 
Before my lessons begin... 
My day will start the evening before my lessons. Firstly i'll prepare my clipboard and poolside documents, print my registers, check my dry box and revise/plan my lessons, whilst thinking about the layout of the pool and if I have any new children or courtesy class customers joining the class. 
Once I arrive at the pool, I unpack all my equipment, complete my pre-teaching risk assessment to ensure the pool is suitable for lessons and put up the pool posters and milestone cards. I LOVE seeing all my customers each week, being part of their journeys, celebrating their progress in the water and ultimately watching the little ones grow up!
After my lessons finish... 
After my lessons, I go home and unload the car. As you can see, it takes a particular skill to fit everything in just right...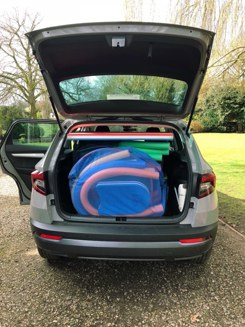 I then put my mat, glove and neoprene nappies in the wash and cold rinse all my uniform to get the chlorine out. I personally work Sunday, Monday and Tuesday. When I get home, I prepare for the next days' teaching and on a Tuesday evening, I clean all my toys and wash my equipment bags. After each day, I log onto our online system to mark my registers and criteria, input my pre-teaching assessment, write my special mentions and reply to any emails.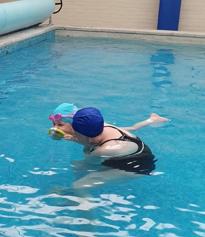 On my days off, I can't stay away from the water and since training and becoming a Puddle Ducks teacher, my daughter has returned to her lessons. She absolutely loves it and i've seen so much progress and improvement in her confidence in the water. She has recently moved to Dippers and soon I look forward to her joining Swim Academy to continue her journey. It has really highlighted the importance of learning to swim and it's a lovely opportunity for us to share the experience together every week.
What is your favourite programme to teach?
My favourite programme is Little Dippers. You get so much interaction from the little ones as their personalities really come through and I feel that this is the programme where we start to see lots of independence from them in their swimming.
I also love seeing the progression in our Swim Academy swimmers, especially if they join us for their first experience in the water. Seeing the children flourish into confident and beautiful swimmers, with the support from us in the water, to swimming independently as we teach poolside, is one of the most rewarding factors of my role.
Becoming a Puddle Ducks teacher is one of the hardest things I have ever done and takes a lot of hard work and dedication; but I have to say, it is the best decision I have made and most definitely worthwhile!
You can read more about my Puddle Ducks story and how I became a Puddle Ducks teacher here.
Zara swims at DW Fitness Kidderminster, The Whitehouse and New College Worcester. Find out about how to start your Puddle Ducks' Journey or find out how you can become a Puddle Ducks Worcestershire Swimming Teacher!