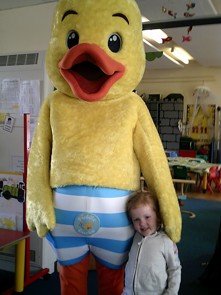 WE HAD A SPLASHING GOOD TIME! 
💦
 Our lovely team members, Emma and Pippa visited Hagley Primary School Kindergarten in Stourbridge with their fluffy friend Puddle the Duck recently and they had an AMAZING time with the little ones!
The children each took part in a special 'dry' lesson, where they shared their experiences of swimming and we taught them all about how to be safe in the water. 
With the help of Puddle the Duck, Emma and Pippa showed the children how to use their arms and legs to splash and kick, which helps them swim really fast when in the water. All the children also got to practice our swimming techniques such as Lion (reaching arms/front crawl), Frog (breaststroke arms) and Crocodile (jumping arms). Whilst singing lots of our Puddle Ducks songs which we use in our lessons including Three Puddle Ducks Went Swimming One Day and All the Puddle Ducks Sitting By The Water.
Everyone had lots of fun dancing and singing!Puddle was very impressed with all the children (and staff!). At the end of the session, everyone enjoyed a BIG cuddle from Puddle and each child received their own special certificate for taking part, along with a goodie bag full of Puddle Ducks treats.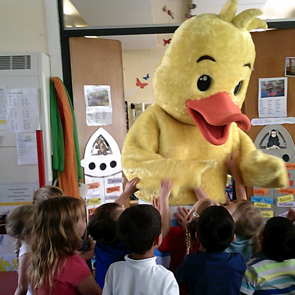 Would you love for Puddle and our team to visit your little one's nursery?
If the answer is yes, please get in touch on 01905 888 346 or at worcestershire@puddleducks.com and we will be happy to organise a visit very soon.