All of our swimmers and their parents are superstars, working hard every week to improve their swimming  techniques. Every term, our teachers nominate those swimmers from their classes who they feel have really stood out in terms of their progress, determination or attitude - their 'Star of the Term'!
This term we have asked Gayle our lovely receptionist at our office here at County House to take on the difficult job of reading through all the anonymous nominations and to choose our winner for our Summer Term 2018.
We are super excited to announce that Gayle picked Jude as our Star of the Summer Term.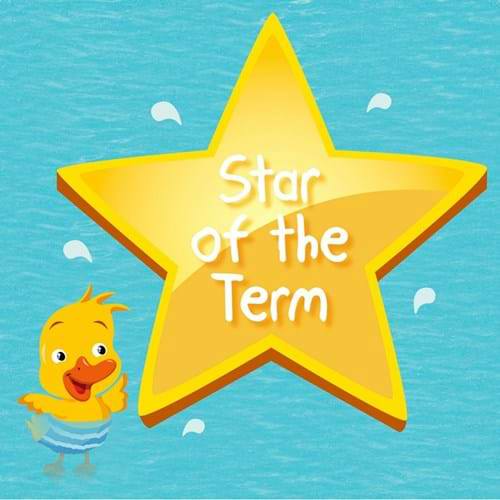 Here is the WINNING NOMINATION:
Jude, Little Dippers - nominated by Becky H 💦
Jude started swimming with me just 7 weeks ago. He was very nervous about getting in the pool and wouldn't let his Mummy go. He was terrified. In just a few weeks Jude has completely changed. He will now blow bubbles, he has shown me some fantastic pushes off the wall and has even had a go at surface diving. He swims on his woggles independently and has jumped off the float confidently. He is a great listener and a pleasure to teach. I am so so proud of him. What a little star!
Here are all our SUPERSTAR nominations:
Elsa, Kickers - nominated by Becky H 💦
Elsa is an absolute joy to teach in my kickers class! Having only just turned two she shows such enthusiasm and an understanding of swimming for someone so young. She blows bubbles and has showed us some amazing little head down swims. She loves being in the water and this really shows through her confidence! She's a little star!!
Omari, Floaties - nominated by Rachel N 💦
Omari started his swimming journey with Puddle Ducks 8 weeks ago in our Floaties programme. At 2 months old, Omari found the water environment a little overwhelming at first, but with calm and consistent reassurance from his mommy and daddy his water confidence has blossomed. We let Omari lead the way, encouraging him to join in with activities at his own pace and it's been great to see him gain more confidence week-on-week. Keep up the good work Omari (and mommy and daddy too!) xx
Maddie, Little Dippers - nominated by Rachel N 💦
Maddie is a super confident little swimmer, who loves the water, especially being underneath it! She has been a great role model for other Little Dippers in her class, showing them how water can be lots of fun 😊 Maddie's water confidence has now been coupled with her growing ability and I'm so proud that she's now moving up to the next programme to become a Dipper - well done Maddie!
Nathaniel, Little Dippers - nominated by Hollie D 💦
I have been teaching Nathaniel for 18 months and it has been the most rewarding journey for me, him and his parents. It started off with Nathaniel refusing to even get in the pool, to then only coming in if he could play with the bubbles from the filter, there were many challenging weeks for Nathaniel and his parents but they kept coming and supporting him with a smile and now roll on a year and he is swimming independently and about to move to dippers. Both of his parents have shown such patience and perseverance with the program and Nathaniel and he is now an absolute joy to teach. Well done the Walters family!
Rohan, Swim Academy Level 4 - nominated by Emma D 💦
Rohan has swum with Puddle Ducks since he was tiny, he has developed so well and is now in our Level 4 programme at Swim Academy. He constantly thrives to try his best and he has great listening skills. Rohan's alignment and stroke is beautiful to watch .. well done Rohan!
Ruby, Little Dippers - nominated by Zara N 💦
Ruby joined Puddle Ducks part way through the term into my Little Dippers class. We had a lovely first lesson starting to build Ruby's confidence in the water and since then she has flourished. She arrives at lessons with an amazing attitude and is always smiling. Ruby likes to try new activities with support and encouragement from myself and Mum and is progressing well with her swimming. Although she had a nervous start, Ruby is trying really hard to work on the feedback given to her in each lesson to improve her technique. It is lovely to see her confidence grow and I am so proud to be part of her swimming journey and her teacher!
Quinn, Swim Academy Level 2 - nominated by Zara N 💦
Quinn has had a fantastic term. He's transformed from a very nervous swimmer into one who will try everything. He recently gained his 5m and moved to Swim Academy Level 2 and now his confidence is soaring. It was lovely watching him in the last lesson, jumping from the side independently and swimming underneath the float. This activity showed how much he has improved as a swimmer over this term, as previously he would get very anxious and panic. He listens well, has fantastic behaviour in lessons and is a pleasure to teach! I am so proud to have been part of Quinn's journey since joining Swim Academy in November and look forward to reaching more milestones in his lesson in the new academic year. Well Done Quinn!!