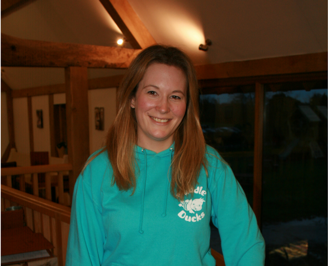 Thank you so much to all the customers who took the time to make a nominatation for the Teacher of the Term competition.
Here is the winning entry, congratulations to Hollie, you are continuing to do an amazing job;
"Our little girl had a fear of water since birth, we could only bath her once a week as she hated it so much - her fists would go white and she would shake! so we decided to enrol her in swimming lessons for water confidence.
I was apprehensive, but Hollie took the time to explain how the lessons ran and how to adapt each activity so Evie would catch up with the class. Hollie took time at the end of her first lesson to practice some of the signals which helped a lot, Hollie is very patient and full of praise. By teaching Evie a slightly different signal and working on blowing bubbles, Evie forgot about the fear and now looks forward to swimming. Hollie told us Evie is ready to move up a class and I was so proud of Evie, but I don't think she would have got there without Hollie."
Thank you to Jane and Maria from the Stratford upon Avon Rotary Club, organisers of the Stratford Duck Race, for being our independent judges. Jane commented, "All the teachers that have been nominated sound super and I only wish my son (now 17) was of an age that I could send him to Puddle Ducks! It was difficult to decide but, the teacher described in nomination no 9 is my choice and the winner."
Here is a few of the the best of the other nominations, well done to our fantastic teaching team;
Nicki
"She has taught both of my children and is not only very skilled in getting the best out of the children but very patient and understanding with the parents. She knows when to push and when not to. My daughter is always super excited to attend swimming especially due to seeing Nicki. She is a credit and should be recognised as such."
Hollie
"Hollie knows every one of her floaties names and every week she calmly guides a bunch of jittery mums through the submersion! She is always so engaging with the babies and mums. We all rush off after the lesson and the next class jump in and I don't feel we get a chance to thank her properly so please give her this award as a thank you!"
Nicki
"Nicki gives us so much individual support with Cillian. Making sure we're all comfortable, and most of Cillian is safe and making progress! Cillian loves his swimming lessons and loves seeing every week! She is so invested with her classes, we have been with Nicki since the beginning of Cillian's journey. He is so confident in the water and we put that down to the time, hard work and investment Nicki has spend with Cillian. Best thing we've done with Cillian. Thank you x"
Rachel
"I would like to nominate Rachel! She is absolutely fantastic! She had real patience with the children and gives so much encouragement and praise when they try their best! 
Archie has recently moved up a class and some of the elements of the lessons have proved a challenge. Rachel always remains supportive and has many tricks up her sleeve to encourage Archie to have a go and if he doesn't want to it's never an issue! 
She's equally as fabulous in Sebastian's class too always lots of exciting things for them to try and the ducks are always a hit to chase. It's great learning something new each week and as a parent she has helped my confidence in helping both of my children achieve at swimming! Thank you Rachel we love swimming with you."
Hollie
"Hollie is always happy and very friendly. Hollie has made swimming lessons with my daughter very enjoyable and Emilia is very happy and contented throughout the lesson, which is lovely for me to see. Hollie makes sure that she is attentive to each and every child during the lessons and the manner in which she teaches is easy to understand and learn."
Kate
"Kate has been really welcoming from our first session. She gives clear instructions and positive feedback to all the mums and children. She is very organised and friendly and if you have any concerns she will ensure she explains fully. She is friendly and caring and Ben really enjoys his classes. Thanks"
Rachel
"Always so positive, friendly, full of beans in her lessons, professional, establishes and maintains lovely relationship with the children/babies/toddlers. Lots of praise for parents as well as the babies, which is encouraging and needed sometimes! Brilliant all round."
Nicki
"We think Nicki is fab and absolutely love seeing her each week. We have swam with her since Lilya was 7 weeks and have loved every second. Her kind nature makes everyone feel at ease, builds new mums/dads confidence and allows all the children to learn and enjoy. Lessons with her are the reason we came back to puddle ducks after a little break and this class is by far the best activity Lilya and I have done together. We also really appreciated Nicki's support this year when Lilya had her grommets fitted. Even if she doesn't win this competition she us still the teacher of the term for us."
Nicki
"My wife and I would like to nominate Nicki for teacher of the term. We've been taking our two boys to Puddle Ducks since they were 4 months old. Ethan is 4 now, with Nicki teaching him since day 1, and the confidence/ability he has gained is brilliant. Nicki is fantastic with the children, they look forward to seeing her every week and she pushes them when she knows they are ready.
We cannot speak highly enough of Nicki and really hope she gets this award as she truly deserves the recognition. In the 4 years we have been attending, she's always cheerful, goes out of her way to help and has builds fantastic rapport with all children in the class. The boys always look forward to swimming and that is thanks to Nicki!"
Kate
"We nominate the lovely Kate because she is very informative, reassuring and positive. She reads the children very well and how to treat each one individually! A great teacher!! Astrid loves her classes."
Rachel
"Rachel is such a friendly and enthusiastic teacher, who has made myself and Henry feel very welcome in her floaties class. Both myself and Henry enjoy our swimming lessons and we are both gaining confidence together in the water, considering I cannot swim very well. We love all the puddle duck songs and Henry always has a smile on his face when we sing them at home!!! Thank you Rachel for making our time in the water a special and enjoyable time!"