We are really pleased to announce that our team player for September goes to..... VICKY!!!
Our lovely teachers Hollie & Pippa both nominated Vicky - here's what they had to say...
Hollie: "Vicky is absolutely fabulous she makes my day so much easier, she anticipates all of the equipment needs and is so efficient with my ocd tidying of the toys. She really interacts with and supports our customers, nothing is too much trouble for her and she does everything with a big smile and a lovely professionalism. Vicky is a real asset to the team and especially to me."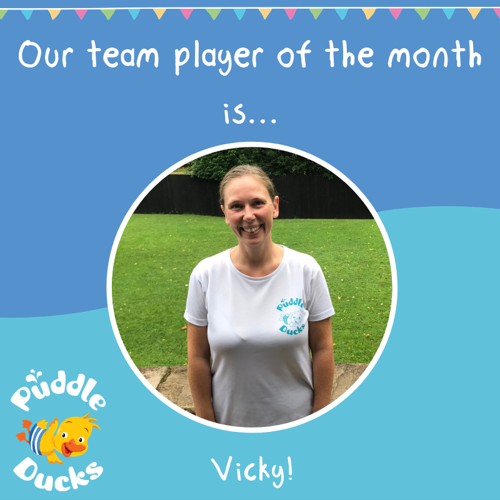 Pippa - "I worked with Vicky to train her for poolside at King's Hawford and it was a pleasure.  She turned up with a huge smile on her face, she was punctual and enthusiastic from start to finish.  She learnt about pool testing which is not straight forward and showed brilliant people skills with the customers. She went above and beyond and echoed the ethos of how important being a poolside is.  It was lovely to see." 
Vicky also covered this Saturday at King's Hawford. The office had an email received from a happy mum who attended a catch up lesson at King's Hawford. 
These nominations have been echoed by other team members so we know that your contribution is recognised by the whole team!

Well done and congratulations Vicky!