All you need to know - New College Worcester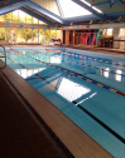 New College Worcester, Whittington Road, Worcester, WR5 2JX
We can't wait to welcome you to Puddle Ducks at New College - in the meantime, here's some information that we hope you find useful. Have a splashtastic time!
PLEASE BE AWARE DUE TO COVID-19 CLASSES ARE NOT CURRENTLY RUNNING AT OUR NEW COLLEGE POOL - CLASSES WILL RESUME ONCE WE HAVE APPROVAL FROM THE COLLEGE TO RESTART.
PLEASE CONTACT THE PUDDLE DUCKS WORCESTERSHIRE OFFICE FOR FURTHER INFORMATION.
Please note that due to current Covid-19 restrictions, many of our procedures have temporarily changed and some of the information below may not be accurate.  When you sign up for classes you will be provided with full information on pool procedures and our office staff will be pleased to assist you with any queries.
Location: New College Worcester
Parking: There is ample parking in the visitors' car park. Upon entering the campus, turn right and follow the signs to the visitors' car park. Car parking spaces can be found along the drive way leading to the main reception, in front of the main building and in the car park on your right as you go up the drive. Follow the white footprints from the car park, signed to the reception. The pool building is on the right hand side as you approach the school's reception.
Changing rooms: One changing room for females and another for males. 
Exclusivity: Puddle Ducks have exclusive use during hire times.
Access: Spectators are allowed poolside.
Poolside Assistant: There is not a Puddle Ducks poolside assistant present.
Technical information:
Pool Temp: 30-32oC
Pool Dimensions: 10m x 23m
Depth: 3'6"(1.06m) graduating to 10'6"(3.2m)
Max Preschool Class Ratios: 10 children/adult pairs:1 teacher (baby and pre-school classes) 8 children: 2 teachers (Swim Academy).
Other:
There are visually impaired children resident on site. There is an absolute 5mph speed limit in force on site for the safety of the visually impaired which must be adhered to.
We hire the pool facility only, the grounds around the pool do have equipment placed there for the use of the residents, however, the equipment in the grounds do not form part of our hire arrangement. The equipment is for college use only, neither ourselves or NCW can be liable for any injuries which occur as a result of customers using this or any equipment which is outside of our hire arrangement.
To help keep the changing room clean, please enter through the fire exit into the viewing area and remove shoes here, before walking past the large window around to the changing rooms.
A well fitting neoprene swim nappy must be worn with a disposable swim nappy or one of our environmentally friendly nappy wraps and liners underneath if your child is in Floaties, Splashers or Kickers and in other programmes if they are not potty/toilet trained.
Local Information:
Closest Cafe: Waitrose Cafe, 223 London Rd, Worcester WR5 2JG
Closest Park: Battenhall Park, Worcester WR5 2DE
Closest Soft Play: Shake and Play, Trinity St, Worcester WR1 2PW