If you've not yet tried swimming with Puddle Ducks, come along and join us at Willow Lodge on Saturday 10th March. 
This lovely private pool is perfect for our Floaties, Splashers, Kickers and Little Dippers. 
Open Day, Willow Lodge, Bubwith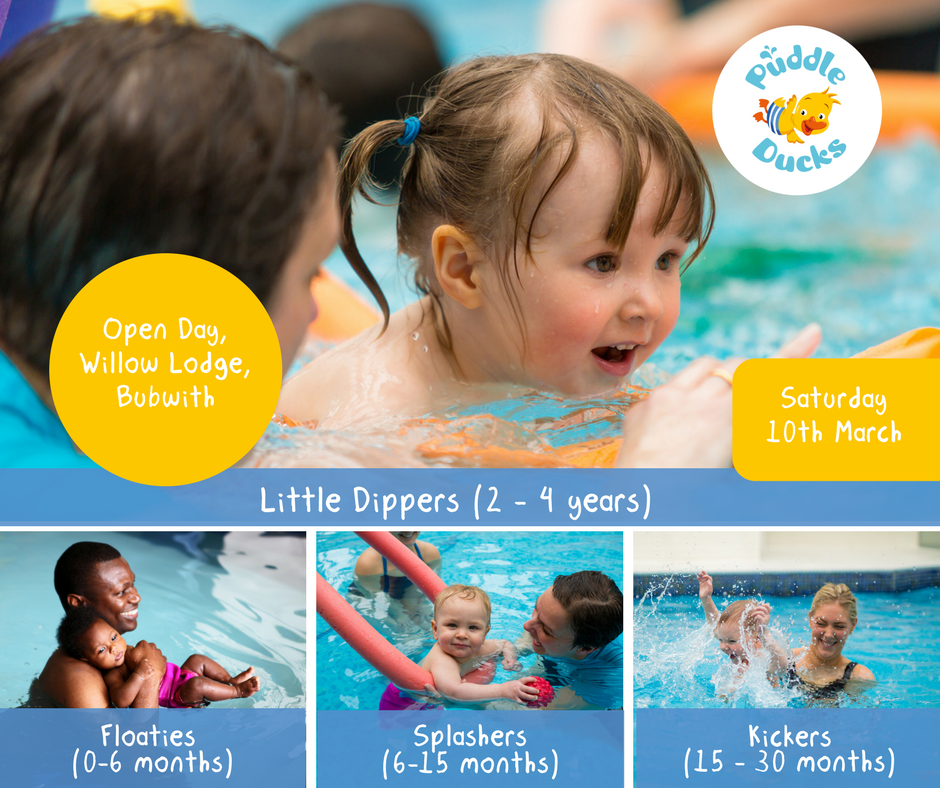 2:00pm Little Dippers (2-4 Years) 

2.30pm Kickers (15-30 Months)

3:00pm Splashers (6-15 Months)

3.30pm Floaties (0-6 Months)
 (Booking is essential - please see details below on how to book your space)
Swimming is one of the most amazing experiences you can share with your baby/toddler! 
Babies can be taken swimming from birth, they do not need to have completed their injections and very young babies love the freedom, massage and gentle exercise that the water offers.
The benefits to both parent and baby of swimming together are immense:
Plenty of eye contact

Plenty of skin contact – it's a wonderful way to bond with your baby

Helping you and your baby feel relaxed and confident in the water

Makes swimming a fun and socially stimulating activity (for both you and your baby!)

Even parents who can't swim can enjoy relaxing in the water with their baby
 There are further benefits too, especially if you join a fun, progressive programme like Puddle Ducks:
 It is the only time your baby can be completely independent (when experiencing gentle submersions)
Only in the water, can a baby move freely and develop actions they wouldn't otherwise be able to in their first year of life. This gives "swimming babies" the opportunity to develop crucial higher brain functions, core muscle development and co-ordination far earlier than they would otherwise be able to

Even though gentle, baby swimming classes provide a complete physical work-out: strengthening your baby's heart, lungs and respiratory system, which again aids development of the brain

Regular swimming often improves eating and sleeping patterns

Learning to respond to key words (within a few months) can make your baby sharper mentally, increasing levels of awareness and understanding as well as improve communication between you

Encouraging a baby to take regular exercise from such a young age is also an extremely healthy routine to instil which may prevent childhood lethargy
But most importantly of all, baby swimming should instil a love of water for the rest of your child's life.
If you would like to book your space at our open day and enjoy a free trial, please contact us on 07825 269146 (Monday to Friday 9am – 1pm) or fill out the form below and we will be in touch.