If you've not yet tried swimming with Puddle Ducks, come along and join us at the Red Lea Hotel for a FREE taster!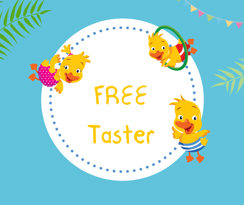 This lovely pool is perfect for our Floaties, Splashers, Kickers and Little Dippers. 
Red Lea Hotel, Prince of Wales Terrace, Scarborough, YO11 2AJ
10:00am Little Dippers (2.5 - 4 Years) 

10.30am Kickers (15-30 Months)

11:00am Splashers (6-15 Months)

11.30am Floaties (0-6 Months)
 (Booking is essential - please see details below on how to book your space)
Swimming is one of the most amazing experiences you can share with your baby/toddler! 
If you would like to book a space please fill out the form below and we will be in touch to confirm your space.