Pyjama week teaches our swimmers invaluable personal survival skills and raises money for charity; all while having lots of fun!
This year we are very proud to support Candlelighters.
Candlelighters support families facing children's cancer in Yorkshire. They get involved in all sorts of different projects to help ordinary families who are facing extraordinary circumstances.
Our very own teacher Carol knows only too well about the valuable support they provide.
Here is Carols story......'We first met Candlelighters when my daughter Niamh was diagnosed with cancer at just 2 weeks old. Niamh had surgery at 3 weeks old to have a Hickman line fitted and had chemotherapy once a week for 6 months at Leeds General Infirmary (LGI). From the endless tests, diagnosis, through treatment and even after treatment has finished, they have been there to support not only Niamh but us as a family.
We have had a much needed break from hospitals going to Centre Parcs, family fun days, talking therapy. They have groups for mums, dads and siblings as well as whole family groups including the Christmas party. They have a bus that comes to all surrounding areas including Hull and York so families have easier access to the support. They have recently renovated a cottage close to LGI for families to stay in while their children are inpatients on the ward'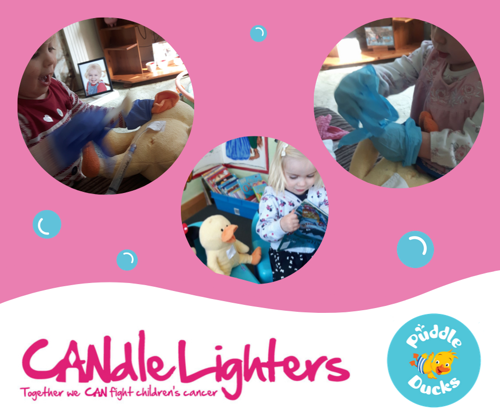 Candlelightetrs also give Chemo ducks to a child diagnosed with cancer being treated at Leeds Children's Hospital for play therapy and to support and educate children and their families during their diagnosis and treatment for cancer.
Chemo Ducks are a fun, interactive way of showing children who are about to undergo chemotherapy what to expect. Each duck is fitted with a central line, similar to that which the children will receive their treatment through, and they are also shown how to take observations on the duck, like weighing them and checking their blood pressure, so it's normal when they have it done themselves.
To donate please visit our Gofundme page 
Find out more about Chemo ducks and the fantastic work the charity dose by visiting Candlelighters