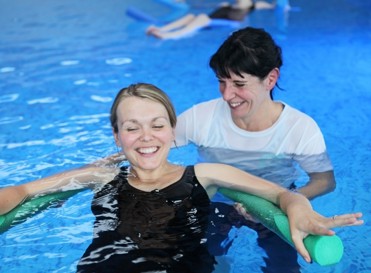 Puddle Ducks York, Hull and East Yorkshire are looking to recruit an Aquanatal teacher to join their team. The Aquanatal Teacher may be the first introduction to Puddle Ducks so must demonstrate commitment, passion, loyalty and the ability to create a good rapport with mothers-to-be is absolutely essential.  Our customers need to know their teacher loves their job and this will be reflected in the way they teach.
You will need a pleasant and outgoing personality as this role demands excellent interaction with the customers.  The teacher must be physically fit as the teaching can be physically demanding, with aerobic exercises being carried out for approximately 45 minutes per session, so you need to be in good health with excellent stamina and no adverse reactions to chlorine. It is also important that you feel and look comfortable and relaxed in the water and on poolside when carrying out aerobic demonstrations.
All Aquanatal teachers must have the following qualifications/requirements:
Either the RLSS National Rescue Award for Swimming Teachers and Coaches (NRASTC) or the STA Pool Responder course (STA PR)
It is imperative that you have a clean DBS check
Computer literate (for printing and updating registers)
The STA Safeguarding Children, Young People and Vulnerable Adult (or equivalent)
The STA Ante-Natal Swimming Course (available online at the STA)
The STA Level 2 Award qualification or the ASA Level 1 Aquatics
It is also important that the candidate is physically fit and able to carry out coordinated aerobic exercises from poolside and also in the water. 
In addition to the above the STA Aquacise and Puddle Ducks Aquanatal course will need to be completed by the successful candidate in their own time (course provided by Puddle Ducks).
The hourly rate of pay is £16.00 per hour.
For more information, please email ellie.cawdell@puddleducks.com