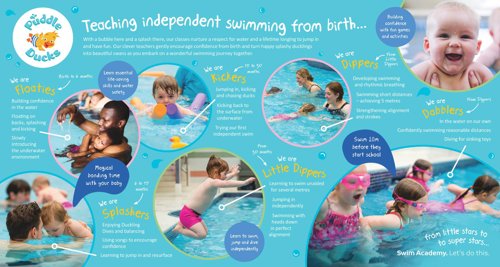 If you've not yet tried swimming with Puddle Ducks, come along and join us for a FREE taster session at one of our fantastic pools.
(Booking is essential - please see details below on how to book your space)
We want every child to love swimming, respect the water and swim beautifully. That's why our standards are the highest and our approach is unique.
At Puddle Ducks, our highly trained and qualified teachers are experts at identifying children's levels of ability and adapting activities to the individual, nurturing confidence and encouraging natural ability.
Our lessons are taught in specially selected pools with limited class sizes. Classes incorporate rhyme (our bespoke songs have been written by professional musicians) and movement based on extensive child development research.
Our programmes and teacher training are continuously developed in the latest techniques, ensuring our teaching standards remain the highest.
Our classes offer children the chance to learn the importance of water safety, including personal survival. These are invaluable skills to develop at such a young age and will instil a confidence and respect for the water that will last a lifetime.
Our lessons are so well received that the children we teach can often swim over 10 metres before they start school. That's the Puddle Ducks difference!
Swimming is one of the most amazing experiences you can share with your baby/child!
But most importantly of all, baby/toddler swimming should instill a love of water for the rest of your child's life.
If you would like to book your space and enjoy a FREE taster class, please fill out the form below and we will be in touch to confirm your space by email (this can sometimes go in to junk mail).