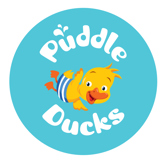 Puddle Ducks was founded by Tracy Townend and Jo Stone, both mums with successful corporate backgrounds, who shared a love of swimming with their babies and a common desire to launch a business.
They opened their first Puddle Ducks class in 2002 and began franchising in 2007. They now have 34 territories across the UK and teach more than 20,000 children to swim every week.
Puddle Ducks specialises in providing swimming lessons for babies from birth and children up to the age of 10. They also provide aquanatal classes for mums to be.
Taught by highly qualified teachers who encourage and nurture the children, Puddle Ducks classes ensure that they have fun whilst learning critical water-safety skills and a love of swimming for life.
Our passion and expertise for teaching swimming in a fun and individually tailored way sits at the heart of everything we do.
Note to journalists and editors: Could we please ask that Puddle Ducks or Puddle Ducks' customers are not referred to as 'water babies', as this is the name of our main competitor. Many thanks.