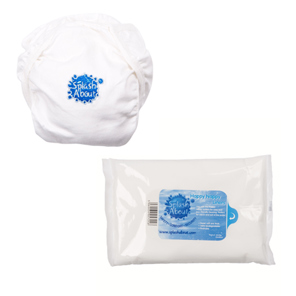 Here at Puddle Ducks we insist that all children who aren't toilet trained must wear a neoprene 'outer' swim nappy (our Happy Nappies are the perfect option!) with a separate 'under' swim nappy underneath. Now this 'under' nappy can be either a disposable swim nappy (those by Huggies or Pampers spring to mind) or one of our lovely soft 'Nappy Wraps' with a Nappy Liner inserted. Your obvious choice might well be a disposable swim nappy, after all everyone else you know uses them, you can buy them from the Supermarket etc. etc. but we really think you ought to give our Nappy Wraps and Liners a go! 
Three great reasons why!
They're much better for the environment
They're much easier to use
They're MUCH CHEAPER!!
Let me explain a bit more!
The Nappy Liners are a bit like a dry 'wet wipe' which you fold and place inside an opened 'Nappy Wrap'. A 'Nappy Wrap' is a soft white cotton nappy with Velcro fasteners which opens up flat for you to lie your baby on. Once fastened round baby the Nappy Wrap should then be covered by a pull on neoprene Happy Nappy. The Nappy Liner is designed to 'catch' any solid accidents that may occur when your child is in the pool! This is exactly the same job that a traditional disposable swim nappy does BUT the Nappy Liner/Wrap combo is far easier to use.
Here's why!
After use simply remove the Nappy Wrap and tip the Nappy Liner (and any contents!) into the toilet. The liner is fully flushable and biodegradable so poses no problem to the drains and the environment.
There's no need to find a special bin to dispose of a soaking wet, dirty disposable swim nappy in or to take it home.
The Nappy Wrap can be washed in the machine or by hand. If you are part way through a lesson and want to use it again immediately just rinse it, roll it in a towel and squeeze.
As the Nappy Wrap is reusable the price savings are huge! If you buy our Starter Pack which includes a Nappy Wrap plus a pack of 25 Nappy Liners it works out at £0.36 per use whereas a pack of traditional disposable swim nappies equates to approx. £0.43 per use. Once you have the Nappy Wrap we then sell the Nappy Liners by themselves which brings the price down per use to only £0.12!!! What's not to love about that?!
Here's what some of our customers have to say about the Nappy Wrap and Liners:
"After some initial reservations (how will a thin liner and a cotton nappy wrap do the same job as a thick disposable swim nappy?) I now whole-heartedly recommend this product! It's so much easier to use and dispose of than anything I have used before!"
"We've been using this Nappy for 4 weeks now and can say that it is exceptional value for money and so easy to use!"
The Nappy Wrap is available in 3 sizes (XS/S- 0/4 months, M/L - 3/14 months and XL/XXL - 12 months/toddler)
Why not give them a try? We'd love to hear what you think!