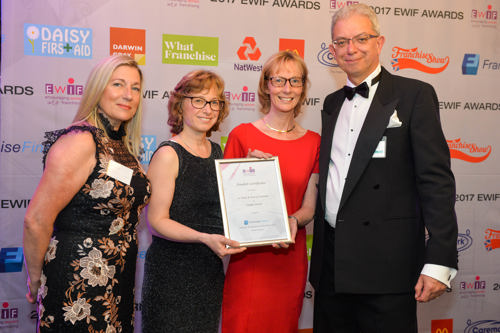 We're extremely proud to be the winners of EWIF's Woman Franchisor of the Year 2017!
EWIF (Encouraging Women Into Franchising) are an organisation that supports women in franchising, providing invaluable help to the 23% of franchisees in the UK that are female, and hoping to grow that number. Puddle Ducks are very proud to be members of EWIF and this is the 4th time in 5 years that our founders Jo Stone and Tracy Townend have been finalists for their Franchisor of the Year award, but the first time that they have won.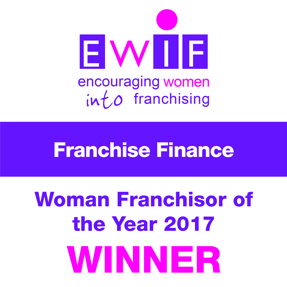 The awards ceremony took place at the NatWest Auditorium in London on Tuesday 16th May, and the keynote speaker was entrepreneur and former contestant on The Apprentice, Melody Hossaini. The other nominations in the category of Woman Franchisor of the Year were Anne-Marie Martin of diddi dance and Louise Harris of Wilkins Chimney Sweep, but it was Jo and Tracy who were successful on the day and both Anne-Marie and Louise were happy to congratulate them.
Jo took to social media after the announcement was made; "Yay. Having been finalists for 5 years we have finally won the award. We are 2017 EWIF Women Franchisor of the Year. #proud. Thank you to our wonderful team of staff, franchisees, friends and families who support us at Puddle Ducks."
Next up is the bfa Franchisor of the Year Awards where we are nominated in the Brand Innovation category, and the bfa Franchisee of the Year Awards where Puddle Ducks Greater Manchester are nominated in the Franchise Innovation category. Both ceremonies take place at the International Convention Centre in Birmingham on the 28th June. Wish us luck!
You can't teach someone to swim by throwing them in the deep end and seeing if they float, which is why we offer extensive training and support for anyone willing to start their own Puddle Ducks franchise. Puddle Ducks' franchisees receive everything they need to ensure their business is a success, with help from Head Office whenever they need it.

If you're interested in being part of our award-winning franchise, get in touch.