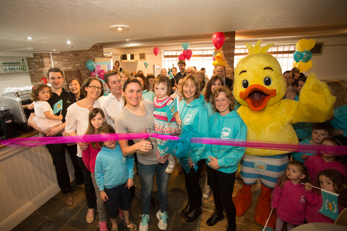 There was much excitement at the recent official opening by local swim specialists, Puddle Ducks, of their brand new baby and child swimming centre in a converted pub in Gee Cross, Manchester. The team at the new facility, Aqua Nurture, were delighted to be joined by Paralympic gold medallist, Dame Sarah Storey who cut the ribbon and officially declared the pool open.
Proud family, clients, customers and local businesses that had worked on the refurbishment, were all invited to the event, giving them the opportunity to look around the fantastic new facility. Owners Gary and Suzanne Horton have painstakingly renovated The Apethorn pub on Knott Lane, creating an impressive new swimming centre and 'family hub' for the local community to enjoy.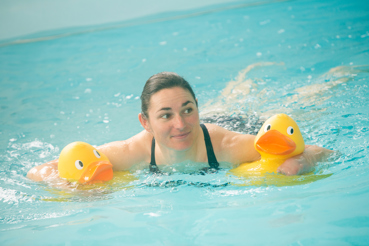 After her official duties, Dame Sarah Storey and her daughter couldn't wait to try out the new pool and she was seriously impressed and commented, "I was delighted to help with the opening of the Aqua Nuture and Puddle Ducks pool. I have known Suzanne from our school days and it's inspiring to see her and Gary's vision come to reality. The pool will be a fantastic place for families and will see many happy faces learning to swim and enjoy aquatic exercise. I wish them all the very best."
They were also joined in the pool by Gary, Suzanne and their two children for their first swim where they all had a great time, as well as splashing around with giant 'Puddle' ducks and other swimming toys and floats. Everyone was in high spirits and there was a fantastic turn out including an appearance from Puddle Ducks' larger than life mascot, Puddle the duck.
Speaking about the day Suzanne Horton said, "We are just thrilled and delighted to have so many people here to share the day with us. We have had some wonderful comments and our 'family swimming hub' has been given a big thumbs up.  We look forward to welcoming mums to be, babies, children, mums, dads, grandparents to come along and enjoy our family friendly facilities.
The new facility includes the addition of an 8m x 6m hydro pool, a multi-function activity space and a coffee shop. It will also be offering a wide range of health and wellbeing activities such as baby massage and baby sensory as well as pre and post pregnancy classes.
The Hortons own and run the Greater Manchester franchise of the award winning national baby and child swim school business, Puddle Ducks, and teach 600 customers each week in eight swimming pools across Manchester, Trafford, Stockport and Oldham.
For more information on Aqua Nurture, visit www.aquanurture.co.uk or call 0161 368 1226 and for Puddle Ducks classes, call 0161 883 0222, or visit www.puddleducks.com/greatermanchester.