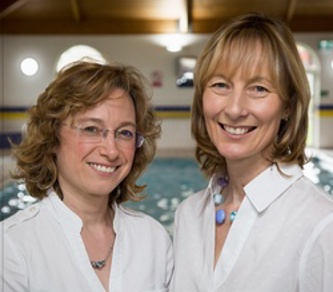 Puddle Ducks was founded in 2002 by Tracy Townend and Jo Stone after they met at ante-natal classes. As their friendship grew they realised they shared more in common than the birth of their first children - they shared an ambition to succeed in business; the need to strike a work-life balance; and a desire to pass on the joy of swimming to babies and children.
Having spotted a gap in the market for high quality children's swimming lessons, Tracy and Jo gave up their corporate careers and after much planning, research and training, Puddle Ducks was launched. Jo first saw the name "Puddle Ducks" on a barge whilst on holiday and it seemed to encapsulate our approach: aquatic, friendly and fun. A little research into the habits of the puddle duck confirmed that the name was indeed appropriate.
Today we teach thousands of babies and children to swim, be safe and develop water confidence right across the country via a network of dedicated franchisees. We also run aquanatal classes for mums to be!
We have a very clear mission, vision and set of values that is at the heart of everything we do. Everyone who works with us and for the Puddle Ducks' brand has a passion for swimming, an ambition for growth and a commitment to become experts in every aspect of their business.
Tracy and Jo's original ethos has never been lost and is reflected in our Mission Statement:
"We want every child to love swimming, respect the water and swim beautifully. That's why our standards are the highest and our approach is unique"