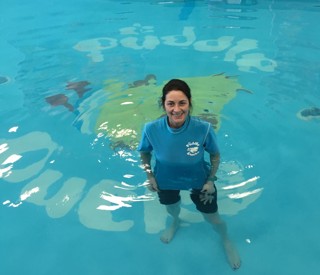 Rebecca teaches for Puddle Ducks Nottinghamshire, North Leicestershire and South Yorkshire, and has risen through the ranks to become Head of Teaching for the franchise. Over the next few weeks, we're going to be sharing with you a week in the life of Rebecca, focusing on one day per week, learning about what she does on a day to day basis and how she spends her down time.
Day Two – Saturday 20th January
A day off today so, because the weather was foul, we had a family trip into Nottingham. We went to a book shop for my boys (aged 7 and 4) to choose a new book and for me to look for a book to help with my studies; I'm doing the STA Level 3 Diploma in Aquatic Teaching, Baby and Pre-School and my final case study is on "Sensory integration or over stimulation within an aquatic environment." As usual I got carried away shopping and bought three books!

The day finished with a nice pizza, so all good!

Back at home and preparing my lesson plans for tomorrow and an early night; it's a full on day on a Sunday.
Teaching with Puddle Ducks

We're always on the lookout for hard workers with a love of water and children, who care enough about giving babies and children a gift of complete freedom and pleasure in the water, and want to give them something that is both a skill for life and a life-saving skill.

Find out more about becoming a Puddle Ducks teacher.

Find out more.

Franchising with Puddle Ducks

Just like the children we teach, a Puddle Ducks' franchise is completely unique. It's an investment that allows you to do something you love and turn it into a profitable business.

All of our franchisees start off teaching in the water, so they can fully immerse themselves in the product and truly understand their customers.  But ultimately, the aim is for you to manage a team of teachers, taking ownership of your own territory.

We'll be there to help every step of the way. It's up to you how quickly you go from dipping your toes in to diving in at the deep end.

Find out more about franchising with Puddle Ducks.

Find out more.