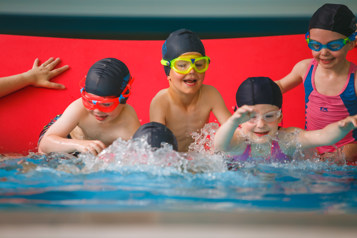 Rebecca teaches for Puddle Ducks Nottinghamshire, North Leicestershire and South Yorkshire, and has risen through the ranks to become Head of Teaching for the franchise. Over the next few weeks, we're going to be sharing with you a week in the life of Rebecca, focusing on one day per week, learning about what she does on a day to day basis and how she spends her down time.
Day Seven – Thursday 25th January
Long day today; five Baby & Pre-school lessons with a few hours break and then five Swim Academy lessons. Luckily all the lessons are in one venue. As the office is based here, I manage to go and discuss a couple of children who are ready for moving and query why someone has dropped off the register as I wasn't expecting them to. Also had a good discussion about making sure children are ready to move before ticking the criteria on our system, and also how we can get customers to make sure they 'book a holiday' if they know they're going to be absent. So much can be achieved by just 'talking' instead of relying on emails and social media.
I had a crazy Swim Academy Level 3 class – they are normally a 'strong' level 3 class but today they weren't listening and it was like they had forgotten how to swim!?!? Hugely frustrating lesson which I've since come home and thought about……..conclusion - maybe they are as fed up of the month of January as we all are – longest month ever! No rest for the wicked, looking at lesson plans for tomorrow and adapting activities to suit the pool.
Teaching with Puddle Ducks

We're always on the lookout for hard workers with a love of water and children, who care enough about giving babies and children a gift of complete freedom and pleasure in the water, and want to give them something that is both a skill for life and a life-saving skill.

Find out more about becoming a Puddle Ducks teacher.

Find out more.

Franchising with Puddle Ducks

Just like the children we teach, a Puddle Ducks' franchise is completely unique. It's an investment that allows you to do something you love and turn it into a profitable business.

All of our franchisees start off teaching in the water, so they can fully immerse themselves in the product and truly understand their customers.  But ultimately, the aim is for you to manage a team of teachers, taking ownership of your own territory.

We'll be there to help every step of the way. It's up to you how quickly you go from dipping your toes in to diving in at the deep end.

Find out more about franchising with Puddle Ducks.

Find out more.