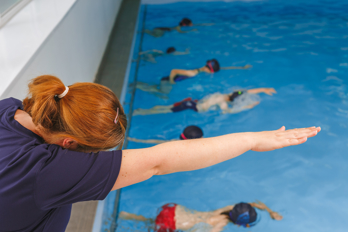 Nici Wragge is one of Puddle Ducks' Super Teachers, as well as Programme Assessor, Puddle Ducks Tutor, STA Tutor, and she is also Puddle Ducks' in-house lifesaving and personal survival expert. She also still teaches Baby & Pre-school and Swim Academy classes for Puddle Ducks Mid Cheshire.
Over the next few weeks, we'll be sharing with you a week in the life of Nici, focusing on one day per week. We'll be learning about what she does on a day to day basis and how she spends her down time.
Day Two – Tuesday 28th November

Following the usual school run I have a couple of hours to sit at my desk. Today I have emails to respond to, I have paperwork to complete from an observing a teacher I completed at the weekend, and I am able to also review some activities for a project coming soon, as well as database checks and other requests that have come in. I also prepare for an Annual Technical Visit (ATV) at one of our franchisees that will take place tomorrow.
At 1.30pm I leave home to arrive at 2.15pm to start my first ATV of the week. We start the meeting by reviewing the ATV report and talking through any issues this has raised. It also provides the Franchise/Senior Teachers the opportunity to question methods or gain additional information on why our guidelines are so important.
Today the Franchise has asked me to support them with Swim Academy (our classes for children aged 4-10). I am able to observe three teachers, teaching both Level 1 and 2. Then it's my turn; I am teaching a Level 3 class with three very well behaved boys, all of whom are very quiet. I am sure they are not normally like this, however a new face has made them clam up! Luckily I crack a few jokes and we are off to a good lesson. Looking over my shoulder I notice the whole Franchise teaching team have arrived to observe the lesson, so maybe it's them making my children nervous! We often find our teaching team are unable to commit to observing other teachers as they too are teaching themselves, however it really does help with your own progression to see how another teacher sets activities up, and to see a different style of teaching too. Today the team is a mixture of Baby & Pre-school teachers, experienced Swim Academy teachers and a new Swim Academy trainee who will attend a training course next week, so a really good insight for her.
You can follow Nici on Twitter here: www.twitter.com/splashtimefun
Teaching with Puddle Ducks

We're always on the lookout for hard workers with a love of water and children, who care enough about giving babies and children a gift of complete freedom and pleasure in the water, and want to give them something that is both a skill for life and a life-saving skill.

Find out more about becoming a Puddle Ducks teacher.

Find out more.

Franchising with Puddle Ducks

Just like the children we teach, a Puddle Ducks' franchise is completely unique. It's an investment that allows you to do something you love and turn it into a profitable business.

All of our franchisees start off teaching in the water, so they can fully immerse themselves in the product and truly understand their customers.  But ultimately, the aim is for you to manage a team of teachers, taking ownership of your own territory.

We'll be there to help every step of the way. It's up to you how quickly you go from dipping your toes in to diving in at the deep end.

Find out more about franchising with Puddle Ducks.

Find out more.