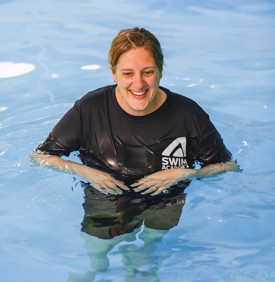 Nici Wragge is one of Puddle Ducks' Super Teachers, as well as Programme Assessor, Puddle Ducks Tutor, STA Tutor, and she is also Puddle Ducks' in-house lifesaving and personal survival expert. She also still teaches Baby & Pre-school and Swim Academy classes for Puddle Ducks Mid Cheshire.
Over the next few weeks, we'll be sharing with you a week in the life of Nici, focusing on one day per week. We'll be learning about what she does on a day to day basis and how she spends her down time.
Day Three – Wednesday 29th November

A 6:30am wake up call and I leave the house at 7am; today I have my second ATV (Annual Technical Visit) of the week due to begin at 9am.

The traffic was not kind and I arrive just after 9am, our first class is at 9:30am and unfortunately the customers and the teacher are in the same traffic I got caught up in. However we manage to start on time and my first task is Dry Box Checks (each of our teachers has a box of items that they keep at poolside that contains things like first aid kits, lesson plans, etc).
I then moved up to the pool where I completed a Programme Assessment on a trainee Baby & Pre-school teacher, which I am happy to say received a positive outcome. Following this I observe the Franchise Senior Teacher teaching a Baby & Pre-school class. Unfortunately the other teacher who I should be observing was unwell so the Senior Teacher will be teaching all programmes today.

We then move onto our feedback before Senior Teacher support; there are some areas that the team require support on and I am able to give advice for them moving forward.

Then it's ATV report time. The Franchisee and I work through the report together, and we end the visit at 3pm. I particularly enjoy ATVs as they allow me to travel to the country catching up with Franchisees and seeing how well their businesses are growing, and also see teachers who I may not have seen since their initial training and to see how far they have come (in some instances they are now Senior Teachers or even Head of Teaching for their Franchise). I am lucky to see the delivery of classes to even more little Puddle Ducks and see the delight on those little faces. Although an ATV is well thought out and we have a plan of action on the day, as a Super Teacher you have to think on your feet, things change, customers want to talk to you, teachers have questions for you, so you have to be ready to support.

I arrived home at 5pm for a quiet evening with the children before the bedtime routine starts!

You can follow Nici on Twitter here: www.twitter.com/splashtimefun
Teaching with Puddle Ducks

We're always on the lookout for hard workers with a love of water and children, who care enough about giving babies and children a gift of complete freedom and pleasure in the water, and want to give them something that is both a skill for life and a life-saving skill.

Find out more about becoming a Puddle Ducks teacher.

Find out more.

Franchising with Puddle Ducks

Just like the children we teach, a Puddle Ducks' franchise is completely unique. It's an investment that allows you to do something you love and turn it into a profitable business.

All of our franchisees start off teaching in the water, so they can fully immerse themselves in the product and truly understand their customers.  But ultimately, the aim is for you to manage a team of teachers, taking ownership of your own territory.

We'll be there to help every step of the way. It's up to you how quickly you go from dipping your toes in to diving in at the deep end.

Find out more about franchising with Puddle Ducks.

Find out more.