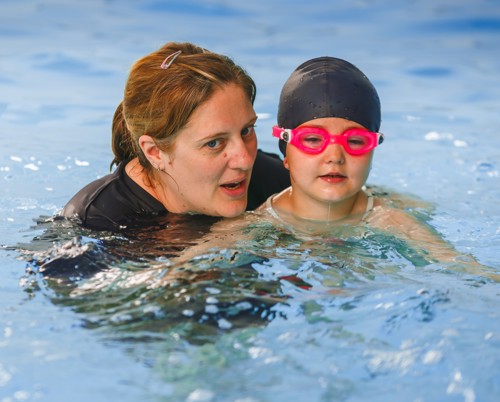 Nici Wragge is one of Puddle Ducks' Super Teachers, as well as Programme Assessor, Puddle Ducks Tutor, STA Tutor, and she is also Puddle Ducks' in-house lifesaving and personal survival expert. She also still teaches Baby & Pre-school and Swim Academy classes for Puddle Ducks Mid Cheshire.
Over the last few weeks, we've been sharing with you a week in the life of Nici, focusing on one day per week. We've learnt about what she does on a day to day basis and how she spends her down time.
Day Five – Friday 1st December
I love Fridays! Firstly it's off to the pool for our Baby & Pre-school lessons starting at 9:45am. I teach with Ali Beckman (our Technical Director) on a Friday and we arrive and have a catch up on the past week and what we need to do today. We are in the process of updating the Baby & Pre-school programme so we may have activities we would like to trial.

When we trial an activity, we have an idea of what we would like, or Ali will ask me to teach something a little differently and then we have the opportunity to observe and see if it worked as we film it to take back to the office to review. Feedback is essential so we speak to the customers, and take on board everything they say. We can then use this material when we have our Technical Team meetings/discussions. I also enjoy just watching Ali teach; we have a lot of fun although she doesn't make a great Poolside Assistant, she is too busy talking to the customers! We have great customer care on a Friday!

We finish teaching and leave the pool around 2pm, I head straight home, update my registers, quick email check and off to pick up the youngest from school.

Tonight is the first of many Christmas nights out so I need to de-chlorine myself and get ready to look glam!
You can follow Nici on Twitter here: www.twitter.com/splashtimefun
Teaching with Puddle Ducks

We're always on the lookout for hard workers with a love of water and children, who care enough about giving babies and children a gift of complete freedom and pleasure in the water, and want to give them something that is both a skill for life and a life-saving skill.

Find out more about becoming a Puddle Ducks teacher.

Find out more.

Franchising with Puddle Ducks

Just like the children we teach, a Puddle Ducks' franchise is completely unique. It's an investment that allows you to do something you love and turn it into a profitable business.

All of our franchisees start off teaching in the water, so they can fully immerse themselves in the product and truly understand their customers.  But ultimately, the aim is for you to manage a team of teachers, taking ownership of your own territory.

We'll be there to help every step of the way. It's up to you how quickly you go from dipping your toes in to diving in at the deep end.

Find out more about franchising with Puddle Ducks.

Find out more.