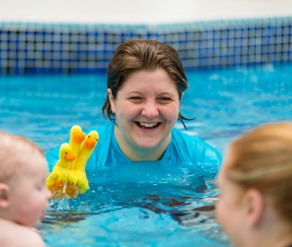 Puddle Ducks turned 15 in October and Ali (who was a competitive swimmer in her youth, and has always loved being in the water) was the company's very first employee, joining as a swimming teacher in March 2005. By December of that year she was writing her first set of lesson plans for the newly launched Dabblers class and then started writing the first teaching manual and lesson plans for other programmes shortly after.
Over seven weeks, we'll be sharing with you a week in the life of Ali, focusing on one day per week. We'll be learning about what she does on a day to day basis and how she spends her (rare) time relaxing.
Day Two – Sunday
After a morning of catching up with paperwork and emails, I met Carolyn at the restaurant connected to the hotel to start the paperwork for the North East franchise. We went through compliance, continual professional development and had a chat about Carolyn's teaching team – fortunately there were no issues. We also looked at business development, marketing, office teams and teaching support – all 'green' grades! Carolyn has the wonderful Julie who is the Head of Teaching in the North East and she looks after the other Senior Teachers and teaching team – there's a great structure in place to assist with continual professional development and maintaining standards.

A short while later we were headed to Beacon Hill, our pool for the day. I remember when Carolyn launched her business and I saw her teach at Beacon Hill on one of my very first visits to the area so it was lovely to be back. I observed Cara and Charlotte teach and loved watched the swimmers. Sometimes I forget to watch the teachers as I'm so focused on the children having fun!

Once teaching was over it was time to give feedback – it's always daunting being observed and you can see how nervous the teachers are waiting for their feedback so I try to put them ease straight away and let them know what a great job they have done. There were no concerns at all today – Cara and Charlotte delivered fabulous lessons and I only needed to give them some tips on how to take their teaching to the next level. Charlotte was acting as Senior Teacher today and it was good to be able to support her in this role which she is fairly new to. More paperwork with Carolyn and then it was time to get to the train station for my four hour journey home. As most people know, I can't switch off, so the iPad was back out and I was catching up with emails again! The more I do now, the less I have to do tomorrow!
You can follow Ali on Twitter here: www.twitter.com/BabySwimExpert.
Teaching with Puddle Ducks

We're always on the lookout for hard workers with a love of water and children, who care enough about giving babies and children a gift of complete freedom and pleasure in the water, and want to give them something that is both a skill for life and a life-saving skill.

Find out more about becoming a Puddle Ducks teacher.

Find out more.

Franchising with Puddle Ducks

Just like the children we teach, a Puddle Ducks' franchise is completely unique. It's an investment that allows you to do something you love and turn it into a profitable business.

All of our franchisees start off teaching in the water, so they can fully immerse themselves in the product and truly understand their customers.  But ultimately, the aim is for you to manage a team of teachers, taking ownership of your own territory.

We'll be there to help every step of the way. It's up to you how quickly you go from dipping your toes in to diving in at the deep end.

Find out more about franchising with Puddle Ducks.

Find out more.