Puddle Ducks turned 15 in October and Ali (who was a competitive swimmer in her youth, and has always loved being in the water) was the company's very first employee, joining as a swimming teacher in March 2005. By December of that year she was writing her first set of lesson plans for the newly launched Dabblers class and then started writing the first teaching manual and lesson plans for other programmes shortly after.
Over seven weeks, we'll be sharing with you a week in the life of Ali, focusing on one day per week. We'll be learning about what she does on a day to day basis and how she spends her (rare) time relaxing.
Day Three – Monday
Feeling exhausted this morning after such a busy weekend working in the North East and Scotland, but lots of paperwork to complete, as every technical visit needs to have a report completed for it. Trying to do this and catch up with emails and phone calls is sometimes difficult and I struggle to switch the phone off! I had a chat with a franchisee who wanted advice on whether to promote a teacher to the role of Senior Teacher or not – we discussed the teacher's teaching experience, her rapport with the rest of the teaching team and what her paperwork was like – fortunately all the boxes were ticked and the franchisee was happy to start the interview process. The rest of the day was spent catching up with emails which varied from advice given to franchisees and teachers, information on medical conditions and trying to plan for my project day tomorrow. I finished work at 3:30pm when my daughter arrived home from school and then it was homework, catch up with some housework and then I left Mr B in charge whilst I went out for a 30km run. I'm training for a marathon at the moment so need to keep up with my training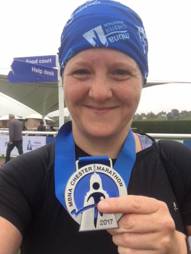 plan – it's hard work trying to get the running hours in but I'm enjoying it and I often spend the time thinking about work, composing emails in my head, thinking up new ideas for the business and wishing I could run with a pen and paper! Arrived back at 9pm and raced to the swimming pool to collect my son after his training session with Northwich Centurions Swimming Club.
P.S. Since this was written I did my marathon and survived….although I may have cried a little!
You can follow Ali on Twitter here: www.twitter.com/BabySwimExpert


Teaching with Puddle Ducks

We're always on the lookout for hard workers with a love of water and children, who care enough about giving babies and children a gift of complete freedom and pleasure in the water, and want to give them something that is both a skill for life and a life-saving skill.

Find out more about becoming a Puddle Ducks teacher.

Find out more.

Franchising with Puddle Ducks

Just like the children we teach, a Puddle Ducks' franchise is completely unique. It's an investment that allows you to do something you love and turn it into a profitable business.

All of our franchisees start off teaching in the water, so they can fully immerse themselves in the product and truly understand their customers.  But ultimately, the aim is for you to manage a team of teachers, taking ownership of your own territory.

We'll be there to help every step of the way. It's up to you how quickly you go from dipping your toes in to diving in at the deep end.

Find out more about franchising with Puddle Ducks.

Find out more.