Puddle Ducks turned 15 in October and Ali (who was a competitive swimmer in her youth, and has always loved being in the water) was the company's very first employee, joining as a swimming teacher in March 2005. By December of that year she was writing her first set of lesson plans for the newly launched Dabblers class and then started writing the first teaching manual and lesson plans for other programmes shortly after.
Over seven weeks, we'll be sharing with you a week in the life of Ali, focusing on one day per week. We'll be learning about what she does on a day to day basis and how she spends her (rare) time relaxing.
Day Four – Tuesday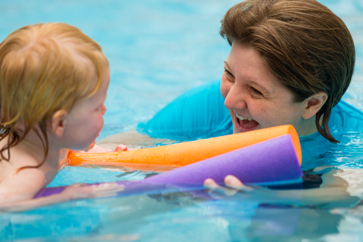 A quick check of emails on my iPad to give me an idea of what I am up against this morning then it's the school run. By 9am I am back at the laptop and I spent the morning working through emails - lots of queries today, mainly around CPD (Continuing Professional Development) for teachers and technical queries. I then started to look at the STA Level 3 Diploma course I will be running in Edenbridge in a few weeks time - planning for courses is always time consuming but very much needed. I don't get the opportunity to do as much tutoring as I like but as there are only a handful of Level 3 tutors in the world, I'm having to travel to deliver this course. I'm looking forward to meeting candidates from other swim schools as sharing best practice is very important.
I spent the afternoon working on a big project which is being led by our Head of Retail - we have exciting things coming in 2018. I do try to stay off email whilst working on projects so I can stay focused but it's not easy - I don't like to see a full inbox and I hate people having to wait for a reply. I finished work at 3pm, did the school run, took three phone calls from franchisees, took my son to his drama lesson and then back home to help with homework and battle with the ten year old daughter who refused to wash her hair! I found her in the shower with one of my Puddle Ducks Swim Academy hats on! At 8pm I was back on the laptop because I remembered a franchisee had asked me to do something earlier in the day and I had forgotten. It should have taken me five minutes but I made the mistake of checking emails again!
You can follow Ali on Twitter here: www.twitter.com/BabySwimExpert


Teaching with Puddle Ducks

We're always on the lookout for hard workers with a love of water and children, who care enough about giving babies and children a gift of complete freedom and pleasure in the water, and want to give them something that is both a skill for life and a life-saving skill.

Find out more about becoming a Puddle Ducks teacher.

Find out more.

Franchising with Puddle Ducks

Just like the children we teach, a Puddle Ducks' franchise is completely unique. It's an investment that allows you to do something you love and turn it into a profitable business.

All of our franchisees start off teaching in the water, so they can fully immerse themselves in the product and truly understand their customers.  But ultimately, the aim is for you to manage a team of teachers, taking ownership of your own territory.

We'll be there to help every step of the way. It's up to you how quickly you go from dipping your toes in to diving in at the deep end.

Find out more about franchising with Puddle Ducks.

Find out more.