Puddle Ducks turned 15 in October and Ali (who was a competitive swimmer in her youth, and has always loved being in the water) was the company's very first employee, joining as a swimming teacher in March 2005. By December of that year she was writing her first set of lesson plans for the newly launched Dabblers class and then started writing the first teaching manual and lesson plans for other programmes shortly after.
Over seven weeks, we'll be sharing with you a week in the life of Ali, focusing on one day per week. We'll be learning about what she does on a day to day basis and how she spends her (rare) time relaxing.
Day Six – Thursday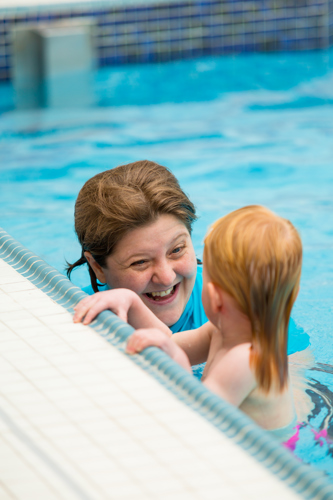 This morning I carried out a staff appraisal over the phone (my team work remotely so it isn't always possible to do them face-to-face) – I keep in regular contact with my team but appraisals are still important as they give me an opportunity to update my business plan in terms of team development and expansion. This appraisal was the biggest one I do as it is for my Technical Development Manager, Tina, who now leads the development of all the programmes, with the support of Super Teachers Susan and Nici. It was a role I struggled to give up but I know that the three of them are amazing at what they do and the development of the Puddle Ducks programmes is in the right hands. Fortunately I still have final say and I do give Tina a brief of what changes I want to see! I'm not ready to let go fully just yet! I still manage all the projects as there's more to developing plans than meets the eye – it needs research, strategic planning, it involves the marketing and retail team as well as our franchise managers and IT team. More importantly, it involves our franchisees and teachers as they are the ones who are teaching the amazing lessons we run. We update our programmes every other year because the world of baby swimming is always evolving and we need to evolve with it. After speaking to Tina for a couple of hours I then prepared a technical report for my upcoming visit to North Kent before heading off to meet another one of my team members to do her appraisal and catch up with all things technical. Nici is a Super Teacher, Programme Assessor, Submersion Teacher, Tutor, Teacher and anything else I throw at her! Nici's appraisal led to her taking on more hours to support our IT project – something I try to avoid! Her position in the company is a long way from where she started as a Poolside Assistant ten years ago and I am very proud of her journey to where is now. After the appraisals I did the school run then took a number of phone calls from franchisees, Duck HQ team members and a couple of teachers whilst trying to clear some of my emails, got my daughter out to her swim training and then managed a quick 10km run. I actually managed to put my feet up for half an hour tonight and say hello to my husband which is rare these days!

You can follow Ali on Twitter here: www.twitter.com/BabySwimExpert


Teaching with Puddle Ducks

We're always on the lookout for hard workers with a love of water and children, who care enough about giving babies and children a gift of complete freedom and pleasure in the water, and want to give them something that is both a skill for life and a life-saving skill.

Find out more about becoming a Puddle Ducks teacher.

Find out more.

Franchising with Puddle Ducks

Just like the children we teach, a Puddle Ducks' franchise is completely unique. It's an investment that allows you to do something you love and turn it into a profitable business.

All of our franchisees start off teaching in the water, so they can fully immerse themselves in the product and truly understand their customers.  But ultimately, the aim is for you to manage a team of teachers, taking ownership of your own territory.

We'll be there to help every step of the way. It's up to you how quickly you go from dipping your toes in to diving in at the deep end.

Find out more about franchising with Puddle Ducks.

Find out more.