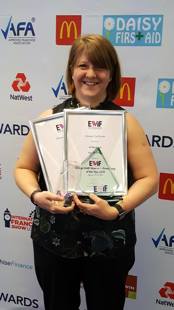 We are extremely proud that our wonderful Technical Director Ali Beckman was the deserving winner of both the Woman Franchise Employee of the Year and the Overall Woman in Franchising Award at the 2018 NatWest EWIF Awards.
Ali was Puddle Ducks' first employee, joining as a swimming teacher back in March 2005. By December of that year she was writing her first set of lesson plans for the newly launched Dabblers class and then started writing the first teaching manual and lesson plans for other programmes shortly after. She now writes all of the lesson plans for Puddle Ducks, and is one of the country's leading experts in baby swimming.
Puddle Ducks has a great history with EWIF. Our founders Jo and Tracy have been nominated for Woman Franchisor of the Year 5 times in the last 6 years, winning the award in 2017. This year's awards also saw Puddle Ducks West Hertfordshire franchisee Ravneet Bermi (who won the Puddle Ducks Franchise of the Year back in February) being a finalist in the Woman Franchisee of the Year award.
We're very proud of Ravneet, Jo, Tracy, and of course Ali for all of their wonderful achievements, and we look forward to next year's awards.
Encouraging Women Into Franchising (EWIF) offer support to women who are looking to get into franchising and Puddle Ducks are very proud to be members.

Learn more