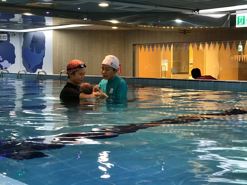 "Day two with Play & Swim in Taipei was an interesting day for the learners as we moved from baby to toddler/child development and the struggles our little ones go through as they learn to deal with emotions and how we, as educators, can provide an environment where they can express their feelings whilst developing new skills. Again, the learners expressed how their newfound knowledge could help them as parents. Our first pool session took place after lunch and it gave me a better opportunity to see the fantastic facilities close up. The lights were dimmed during a 0-6 month class to prevent over-stimulation and the low roof gave a sense of security and additional warmth. The nurturing environment however came second to the nurturing style of the teaching - all the teachers were exceptional in their delivery and it was great to see them applying the theory in the pool.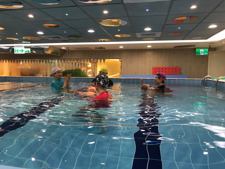 Another evening with Lan, this time at a teppanyaki restaurant. More conversations about all things aquatic and an opportunity to discuss the cultural issues Lan and her teachers sometimes face. In a predominantly adult-led culture, it made me realise that the last two days of the course may be a challenge.
Research has shown that the benefits of child-led play far outweighs adult-led play, however finding the balance in swimming lessons can be difficult as we often only have 30 minutes, so we need to find opportunities within activities where children can lead their learning through play to feel empowered. There are many units on the Level 3 course but this is the section many teachers struggle to absorb and put into practice. We kept this in mind whilst we started to look at the transition to independent swimming and how we could best teach this. The second pool session allowed teachers to experiment with activities which could lead to independence and there was a lot to learn from this."
You can read the final part of Ali's Asian Adventure next week.
Teaching with Puddle Ducks

We're always on the lookout for hard workers with a love of water and children, who care enough about giving babies and children a gift of complete freedom and pleasure in the water, and want to give them something that is both a skill for life and a life-saving skill.

Find out more about becoming a Puddle Ducks teacher.

Learn more