"On day three with Play & Swim in Taipei I had the evening to myself so I jumped in a taxi and headed for downtown to Taipei 101, the fourth tallest building in the world. I 'enjoyed' an ear-popping 37 seconds in a lift to the 89th floor where I took in amazing sights of the city, followed by an equally ear-popping descent and a visit to food markets.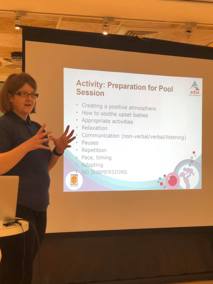 The last day had arrived and I felt very sad. Each morning the learners had stood at the front of the classroom and presented their learnings from the previous day and every time it made me feel proud at just how much they had learnt the day before. Today was tough though. Today was emotional. Apple started and she spoke beautifully about the impact the course had on her, how she felt she had learnt so much to help her improve as a parent as well as a teacher. I held back the tears as she thanked me for the knowledge I had shared and for the comforting and reassuring smile I always had. One by one the rest of the learners spoke, each one with an appreciation for my time and knowledge and each time, I fought back the tears as we hugged. I had never felt so appreciated on a training course and felt I had made such a difference.
Emotions put aside, we got on with day four and covered sensory, disability awareness and further child-led V adult-led topics, leading into the writing of another set of lesson plans ready for the pool session. It was obvious that Lan and her teachers had a challenge ahead, to find the balance of building child-led activities into the lesson plan, to allow for progression through exploration and play and to convince parents that positive communication through these methods of teaching could produce better results in the pool. Again, all teachers taught with confidence and with excellent technical skills and I was left feeling emotional again as we headed back to the classroom to finish the course.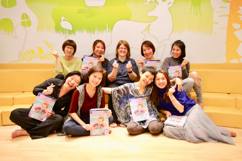 We again reflected on the learnings of the day and also the pool session, finished the necessary paperwork and brought the course to an end. A meal with the team was on the cards and we headed out to celebrate and relax after four days hard work. My flight was that evening and I was feeling sad at leaving so soon, wishing I had booked to stay a little longer.
A 22hr journey lay ahead of me and after emotional goodbyes I had time to reflect further on my time in Taipei.  I cannot begin to describe the warmth of the people in Taiwan - it really is a beautiful country with beautiful people. My time at Play and Swim with Lan and her teachers and all that worked at the centre was an experience I won't forget in a long time. They welcomed me with open arms, listened attentively for the whole course and were so knowledge-thirsty that I really felt I was making a difference. I returned home armed with gifts for me, my family and even everyone at Duck HQ! I was extremely grateful to be given this opportunity and I hope to be able to return in the future."
Everyone at Duck HQ would like to say a huge thank you to Lan and Play and Swim for these beautiful gifts that they sent back to us with Ali. They were delicious!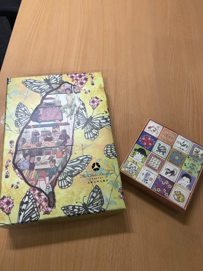 Teaching with Puddle Ducks

We're always on the lookout for hard workers with a love of water and children, who care enough about giving babies and children a gift of complete freedom and pleasure in the water, and want to give them something that is both a skill for life and a life-saving skill.

Find out more about becoming a Puddle Ducks teacher.

Learn more