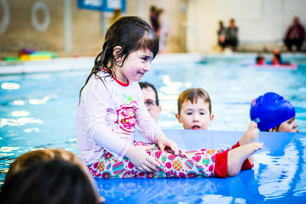 Our November Pyjama Week is almost upon us and we are excited about how much money will be raised for the fantastic charities. Last year we managed to raise a magnificent £55,000, and we aim to beat that this year.

Wearing pyjamas during swimming lessons is about more than just having fun. Most accidents will happen while your child is fully clothed, so Pyjama Week will give a great indication of what this will feel like. It will help them realise that they will feel heavier but they will still be able to do the important life-saving manoeuvres like kicking to the surface and reaching for the side.

Charity Pyjama Week this year is from 7th – 13th November. Each Puddle Ducks team has chosen a charity close to their hearts, mainly voted for by our lovely customers. These are the great charities that we will be raising money for:

Baby Beat Appeal - www.babybeat.co.uk
BIBS Babies in Buscot Support - www.bibs.org.uk
Bliss - www.bliss.org.uk
Bluebell Wood Hospice - www.bluebellwood.org
Bowles - www.bowles.ac
Bradley Lowery's Fight Against Neuroblastoma - bradleylowerysfight.org.uk
Chestnut Tree House - www.chestnut-tree-house.org.uk
Children in Need - www.bbc.co.uk/pudsey
Cots for Tots - www.cotsfortots.org.uk
Friends of the Baby Unit Derby - www.fobuderby.com
The Good Will Cause - www.facebook.com/thegoodwillcause
Grace Kelly Ladybird Trust - www.gracekellyladybird.co.uk
Ickle Pickles - http://www.icklepickles.org
Lincolnshire Downs Syndrome Support Group - www.lincsdownsyndrome.org.uk
Little Hearts Matter - www.lhm.org.uk
The Lullaby Trust - www.lullabytrust.org.uk
Menphys - www.menphys.org.uk
Neonatal Unit at Ipswich Hospital - www.ipswichhospital.nhs.uk/getinvolved/supporting-our-charity.htm
Northern Lights Children's Charity - www.northernlightscharity.org.uk
Nottingham University Hospitals NICU - www.nuh.nhs.uk/our-services/services/maternity/after-your-baby-is-born/neonatal-intensive-care-unit
Pilgrims Hospices - www.pilgrimshospices.org
Portsmouth Hospitals Charity - www.porthosp.nhs.uk/get-involved/fundraising/nicu.htm
R Charity - www.rlbuht.nhs.uk/Fundraising/Pages/New%20Royal%20Appeal.aspx
Rainbows Children's Hospice - www.rainbows.co.uk
Reach - reach.org.uk
Reuben's Retreat - www.reubensretreat.org
Royal Marsden Children's Unit - www.royalmarsden.nhs.uk/our-consultants-units-and-wards/clinical-units/children-and-young-peoples-unit
Ruby's Fund - www.rubysfund.co.uk
Sands - www.uk-sands.org
Scoo-B-Doo - www.scoo-b-doo.info
Sheffield Children's Hospital - www.sheffieldchildrens.nhs.uk
Shine - www.shinecharity.org.uk
Special Stars Foundation - www.heyspecialstars.co.uk
Stanley's Hydro House - www.justgiving.com/fundraising/StanleysHydroHouse
Tiny Lives - www.tinylives.org.uk
Visyon - www.visyon.org.uk
Wakefield and District Down's Syndrome Support Group - downsyndrome-wakefield.net

To find out which charity your local team is supporting, and to get involved, visit https://www.puddleducks.com/local-teams

If you're taking part, we'd love for you to send your photos to our Twitter and Facebook page.