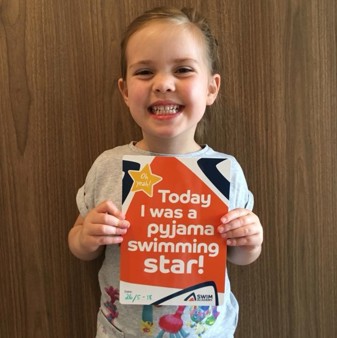 Three times a year we hold a Pyjama Week, where our swimmers attend lessons in their pyjamas and learn vital lifesaving and personal survival skills, and in our autumn Pyjama Week (14th - 20th October this year), our swimmers raise money for charity.
Wearing pyjamas during swimming lessons is about more than just having fun. Most accidents will happen while your child is fully clothed, so Pyjama Week will give a great indication of what this will feel like. It will help them realise that they will feel heavier but they will still be able to do the important life-saving manoeuvres like kicking to the surface and reaching for the side.
Each local team chooses a charity close to their hearts, and last year our swimmers managed to raise almost £50,000, taking our total over six years to a whopping £253,000. This year we'd love to beat last year's total, and these are the charities that we will be raising money for:
Be Free Young Carers - befreeyc.org.uk
Bliss - www.bliss.org.uk
British Heart Foundation - www.bhf.org.uk
Candlelighters - www.candlelighters.org.uk
Captain Chaos Challenges - bit.ly/30QywQU
Chestnut Tree House Hospice - www.chestnut-tree-house.org.uk
Children's Adventure Farm Trust (CAFT) - caft.co.uk
Children's Heart Surgery Fund - www.chsf.org.uk
Demelza Hospice Care for Children - www.demelza.org.uk
DKMS - www.dkms.org.uk
Friends of the Baby Unit Derby - www.fobuderby.co.uk
Gympanzees - www.gympanzees.org
Isabelle Molloy - bit.ly/2MuuloS
Jack and Emerson - bit.ly/2Mri9ou
Kent Search and Rescue - www.ksar.co.uk
Leo's Charity - bit.ly/30YbKXp
Lincs and Notts Air Ambulance - www.ambucopter.org.uk
Lollipop Fund at Darent Valley Hospital - www.valleyhospitalcharity.org.uk/appeal/lollipop-fund
Lucy Air Ambulance - www.lucyaac.org.uk
Lucy's Mission - bit.ly/35guODn
Making Dreams Come True for Khiannah - bit.ly/30YbKXp
Meningitis Now - www.meningitisnow.org
Naomi House & Jacksplace Hospice - www.naomihouse.org.uk
Neonatal Unit at Ipswich Hospital - www.esneft.nhs.uk/service/childrens-services/childrens-health-neonatal-unit
Noah's Ark Children's Hospital Charity - noahsarkcharity.org
Oxford John Radcliffe Hospital, Children's Unit - www.ouh.nhs.uk/children
Rainbows - www.rainbows.co.uk
RDA at the Shelley Centre - shelleyrda.com
Scoo-B-Doo - www.scoo-b-doo.info
Tam O'Shanter Urban Farm - tamoshanterfarm.org.uk
The Children's Heart Surgery Fund - www.chsf.org.uk
The Christie - www.christie.nhs.uk
The Emily Harris Foundation - www.emilyharrisfoundation.org
The Rainbow Centre - www.rainbowcentre.org
The Rainbow Trust Children's Charity - rainbowtrust.org.uk
Yorkshire Air Ambulance - www.yorkshireairambulance.org.uk
Zephyrs - www.nottinghamhospitalscharity.org.uk/appeals/zephyrs-nottingham-appeal

To find out which charity your local team is supporting, and to get involved, visit our Local Teams page and find your area.
If you're taking part, we'd love for you to send your photos to our Twitter, Facebook, or Instagram.