Te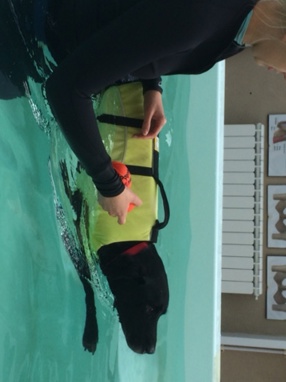 chnical Director Ali Beckman recently attended a different kind of swimming lesson - one for dogs!
Lemmy is a 10 year old black Labrador who was rescued on Valentine's Day this year after being neglected by his previous owner who unfortunately suffered from Alzheimer's. He was malnourished and suffering from muscle atrophy as well as having serious dental problems. His new owner, Sam, has dedicated the past few months to Lemmy's recovery, helping him gain weight, paying for an operation to solve the dental problems and taking him on gentle walks to help build his muscles back up. Unfortunately Lemmy was still struggling with his walking and Sam decided to look for alternative treatments to help him recover and that's when she stumbled upon aquatic therapy for dogs!
Lemmy had his first 'lesson' and Sam invited Ali and her daughter along to watch him on his second lesson at The Cheshire Canine Hydrotherapy Centre, Ollerton, Cheshire (http://www.cheshirecaninehydrotherapy.co.uk/home). The lesson consisted of Lemmy having a shower first (as we would expect!) then he was harnessed up and walked up a gentle ramp into the hydro pool. His 'instructor' Tate was gentle and encouraging and helped him into the water with ease. Once Lemmy was in, he naturally used his paws to doggy paddle himself around the pool. Tate guided him round the edge of the pool for a couple of laps and then onto a resting area. She informed us that 5 minutes exercise in the pool was like 30 minutes walking so not much different to a human swimming lesson! Lemmy struggles on land but looked at ease in the water – he moved with little effort and Tate examined his muscles throughout the session to ensure he wasn't getting too tired – she said it was about strengthening the muscles, not breaking them down.
The session finished with Lemmy having a Jacuzzi! Yes, you heard it right - a Jacuzzi! The bubbles helped to relax Lemmy's muscles after his workout and he sank back into the water, thoroughly enjoying the experiencing. A quick post-swim shower, towel dry and then a hairdryer and Lemmy was done. His owner, Sam, has already noticed a massive improvement and Lemmy is able to shake the water off without falling over, he's managing bigger walks and has even started to run. Proof that aqua-therapy does help!

Ali knows all too well the relief that being in the water gives. After a nasty fall on ice five years ago which resulted in a back and neck injury, Ali was diagnosed with fibromyalgia, an incurable condition which causes muscle pain and stiffness. Ali found she was in less pain when in the water and when the pain got really bad, she would take herself off to the pool for some therapy.
The benefits of aquatic therapy in humans and animals are still very much understated and need to be promoted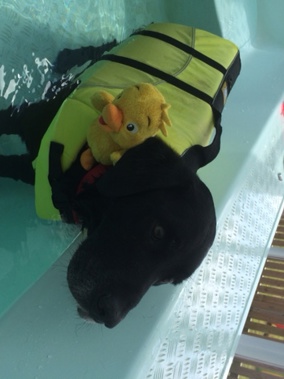 by the medical industry more but it is also excellent therapy for conditions. Any movement in water is good for the body that needs to recover from an injury where there is muscle tension and spasms (cerebral palsy) as well as neurological and nerve conditions, cystic fibrosis, arthritis and many more. People
suffering from conditions such as a muscular dystrophy or multiple sclerosis benefit greatly from hydrotherapy.
Being in the water can give relief from pain, swelling and stiffness, it can promote joint mobilisation, increase cardiovascular fitness (heart and lungs) as well as promote relaxation which can help people who suffer from depression. Circulation can be also be improved just by moving around in the water.
At Puddle Ducks we are inclusive so far as our qualifications allow us to be (you need a disability qualification to be able to teach certain conditions) as we recognise the benefits that children with medical conditions gain from being in the water and exercising. We tailor activities to suit children with limited movement or other special needs, ensuring that they always feel included in our lessons. Swimming lessons are important and learning to swim is a key personal survival skill but therapy is also important.