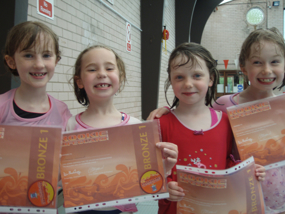 Being the daughter of our co-founder Tracy, Martha has lived in the world of Puddle Ducks her entire life. In fact Puddle Ducks was born before Martha was! Having recently qualified as a teacher herself, we asked Martha to tell us some of her memories.
"My first memory of Puddle Ducks is going to Baby & Pre-school classes on a Monday, with my mum and Ali teaching me. After age 4, I graduated to Swim Academy and went to a class in Sandbach with two of my school friends. I always remember eating a Curly-Wurly in the car after every lesson!
When I was a bit older, still at Sandbach, I learnt to dive with my friends Paul and Katy. Everyone could do it except Katy, who was terrified to stand up! I moved classes to Delamere Forest Pool, where I was again taught by mum, with Susan this time. I remember one specific Pyjama Week lesson, as Susan was walking past my mum, she pushed her into the pool! We had to rescue her and everyone found that hilarious! Pyjama Week lessons were always my favourite as I loved throwing the ropes to save people, wearing my pyjamas and using the massive float.
The business has grown enormously during my lifetime. The office was just a room in our house to begin with, and as it got more and more crowded, it was eventually moved to an office in Holmes Chapel, and there are now 33 offices around the country.
My older sister Ella trained as a Swim Academy teacher last year, and after seeing how much she enjoyed teaching, I decided to train as well. It seemed to be the natural progression after both being taught, on top of last year doing my work experience in the office, where I learnt more about the business side of the company.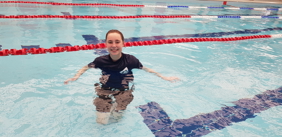 I had to do three courses to become a teacher, located in Wales, London and Bristol. The longest one was a five day course which I did in London, taking up my whole half term. I really enjoyed the course, as because it was half term, there were about 6 other girls my age. We all became friends quickly and had a lot of fun and on the last day we all went out for lunch. I also enjoyed the course because I was in the water far more than I thought, from the first day we were teaching children one-on-one all afternoon, and watching others teach. As the week progressed we took bigger classes. Having that much time in the water really helped as there's only so much you can learn from a classroom without a practical element.
On my first day as a teacher after I qualified, I was nervous all day at school because I thought I had no idea what I was meant to do, but as soon I was in the water I felt so much more confident. It was Pyjama Week so the children were all chatty and eager to swim, and my co-teacher Nici was clear about what I should do, where I should stand and how I should help. The kids love Pyjama Week just like I used to, as all the activities are really different, like pretending they've fallen off a boat and saving each other with woggles.
After that first week was out of the way, every week I would lead the lesson a little bit more, doing things like singing the entrance and the closing song, and Nici would give in-depth feedback after each lesson, so that I felt less and less nervous every week! Getting to know the children has been really great as well, you quickly get to know who the chatty ones are, who likes to show off, and who needs just the small bit of encouragement before they can do really well."