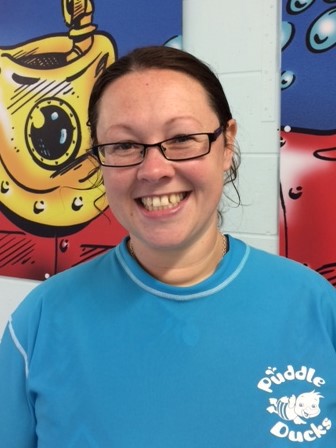 "After my first son was born in 2011, I could not bear the idea of leaving him to return to my boring unfulfilling desk job, so I took the leap and became a stay-at-home mum! A little after his first birthday I started looking for a part time job but discovered that my options were very limited. After several unsuccessful applications, I discovered that I was expecting again so abandoned the job hunt.
My second son died whilst I was in early labour. In the aftermath of this tragedy I could not even contemplate looking for work, so concentrated on caring for my son and allowing myself time to heal.
My third child, a daughter, was born in December 2014.
I had brought my son to Puddle Ducks classes from about 12 months and started attending earlier with my daughter. We always loved the lessons and I was excited to be starting another Puddle Ducks swimming journey again with my daughter. Little did I know it would be a much bigger journey for me...
I received an email in October 2015 advertising for a Poolside Assistant in my area. As my daughter was approaching 1 and my son was nearly 5, I quickly updated my CV and emailed it across. I didn't expect to hear anything as I had less than no experience in this area, but within a couple of days I got a call asking to meet me at my local pool during a session. The franchise owner talked me through the role but also discussed the opportunity for me to train as a Baby & Pre-school Teacher. I agreed to start as a Poolside Assistant the following week and went away to think about the teaching opportunity.
I thought about all the fantastic, fun, knowledgeable and professional Puddle Ducks teachers I had encountered and I remember repeatedly asking my close friends and family if they thought that I could do it. Of course they were supportive and encouraging but I don't think I really believed that I could ever do it. My confidence and self-worth were at all time lows.
I'm not sure what convinced me to eventually take the plunge, but I did! The training courses were intensive and I found them exhausting. Having been a stay-at-home mum for 5 years meant that I felt I had lost the ability to take all this new information in.
Once all the training was completed then the real work began: the co-teaching! Yet another huge hurdle for me due to my complete lack of confidence and self-worth. I was not going to be anywhere near ready by the time my assessment date arrived, so it was postponed. Even with the extra time and doing as much co-teaching as I could fit around my family, my first assessment did not go well. I was devastated. I wanted to give up, convinced I would never be good enough, but the amount of time and energy I had put in already (added to the cost of all the training) gave me the determination to soldier on.
My next assessment went a little better and I passed 2 programme levels. I was finally able to lead-teach and the assessor gave me some great advice and encouragement. She saw something in me that I could not. On my third and final assessment I passed the remaining programme levels, and after a little more coaching and mentoring I was fully signed off, just over 6 months after starting my training.
Now it has been nearly 2 and a half years and I can honestly say "I love my job" for the first time. I have also trained to be a Swim Academy and Aquanatal teacher. All the hard work and time and struggle it took to qualify didn't always seem worth it at the time, but looking back now I am so proud and happy that I didn't give up and walk away.
After being a stay-at-home mum for so long I lost a bit of myself, I really felt I had nothing to offer beyond being "Mum". This journey has helped me find myself again and continues to help me. Supporting children and their parents and watching them enjoy swimming and grow in confidence safely gives me so much pleasure and satisfaction and I have a renewed sense of worth, value and confidence.
Becoming a Puddle Ducks teacher is definitely one of the hardest things I have ever done but it is unquestionably one of the most worthwhile."
This blog was originally published in April 2018. Vicki has since moved on from teaching with Puddle Ducks, but is still grateful for the years she spent teaching.
Teaching with Puddle Ducks

Vicki taught for Puddle Ducks NW Midlands & South Cheshire.

We're always on the lookout for hard workers with a love of water and children, who care enough about giving babies and children a gift of complete freedom and pleasure in the water, and want to give them something that is both a skill for life and a life-saving skill.

Find out more about becoming a Puddle Ducks teacher.

Learn more