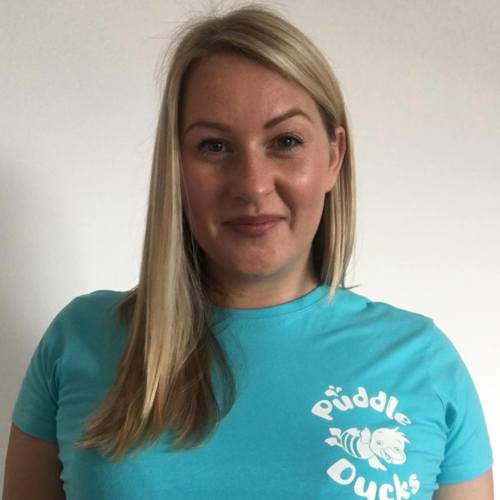 We are very happy to welcome Jay Nash to the Puddle Ducks family.
Jay is the new owner of Puddle Ducks Chester, Wirral & North Wales, and currently teaches in 12 pools across the area.

A competitive swimmer during childhood (achieving Welsh National records!), Jay is massively passionate about swimming, and has worked as a lifeguard, an aerobics & swimming instructor and a swimming coach, before moving into medical device sales after university.

Living in North Wales with her husband and daughter Amber, it was the desire to spend more time with her family that pushed her towards Puddle Ducks; "After the birth of my daughter my national role and the travel aspects of my job pushed me to take the leap into franchising. The timing was right to make the change and look to implementing my aspirations of owning my own business. A friend messaged me with a link to the sale of Puddle Ducks Chester & Wirral, and I knew then what I needed to do."

Jay is very motivated and has big ideas for her franchise; "My ambition is to have a highly professional premium service and quality swimming school, which a has a fantastic reputation."

"For any potential Puddle Ducks franchisee, I would say if you love swimming, love children and passionate about what you do – the world is your oyster! We have amazing staff, teachers and excellent branding."
Puddle Ducks Chester, Wirral & North Wales

The lessons take place across Chester, Wirral and North Wales throughout the week, teaching from birth right up to the age of 10.

Find out more about lessons in Chester, Wirral & North Wales.

Learn more

Puddle Ducks Franchising

Just like the children we teach, a Puddle Ducks franchise is completely unique. It's an investment that allows you to do something you love and turn it into a profitable business.

All of our franchisees start off teaching in the water, so they can fully immerse themselves in the product and truly understand their customers.

Find out more about franchising with Puddle Ducks.

Learn more