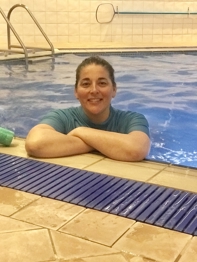 Vikki was nominated by Tommy's mum and this is what she had to say:

"I nominate Vikki for the 'Puddle Ducks East Surrey Star Teacher Spring 2019'. We have been swimming with her since my son was 12 months old – we love her so much that we have followed her to three different pools and now drive a round trip of 75 miles every Friday to swim with her at Ryddenwood Pool.
My son's confidence in the water has just flourished thanks to Vikki's patience, enthusiasm and caring nature. We both really look to seeing her each week and we have such a fun time in the water. My son loves seeing Vikki and spends most of the lesson trying to swim towards her!
She is totally professional and ensures each child who swims with her has an individualised lesson, putting to rest any worries that parents may have. We could not ask for a better swimming teacher. Thank you Vikki. We love you!"
The nomination was chosen by Lan Xi of Play and Swim, Taipei. Our Technical Director, Ali Beckman, had recently spent some time with Lan in Taipei, delivering STA training. This is what she had to say:
"As an experienced swim teacher myself, I understand an extraordinary teacher is not only about knowledge and expertise, but also patience, enthusiasm and approachability. As the owner of the biggest baby swim school in Taiwan, I value retention rate very much since it is a key indicator for teacher performance. The teacher I've chosen is based on my two roles. I was particularly impressed that the word of "love" appeared three times in the nomination of Vikki. This teacher must be full of love that the parent and son will happily drive 75 miles for a swim class every Friday! Every swim school owner would consider themselves fortunate and proud to have this star teacher."
Becoming a Puddle Ducks teacher

It is no surprise that baby swimming teachers are constantly smiling. Their lives are full of happy parents, babies and toddlers, giggles and smiles.

Find out more about doing the best job in the world!

Read more

More about Lan Xi

I lived in the UK for 13 years before I moving back to Taiwan 5 years ago. A number of important life events happened in Britain such as getting married, giving birth to my two kids and becoming an STA qualified baby swim teacher. My experience in your country has taught me "love and respect" which has had a huge impact on me as a mother and a teacher. My husband and I founded Play and Swim swim school in Taipei, the capital city in Taiwan. We offer child-led swim classes and Kindermusik in our centre located in Taipei Arena.

Learn more