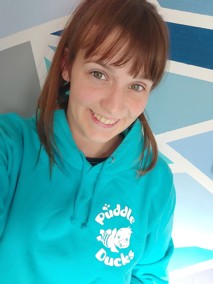 Beth was nominated by Mae and her mummy, and this is what they had to say:

"Our nomination for Star Teacher is Jemma. We swim with Jemma on a Sunday at Jury's Inn. Jemma is amazing with my little girl Mae. Mae is coming up 3, she is currently non-verbal and we are going through the process of her being diagnosed autistic. Jemma has been patient and has given Mae the attention to such a point that Mae now goes to the car to go swimming with Jemma. She acknowledges Jemma in the pool and will actually go to her to do some activities.
After COVID and the first return to the pool Mae had numerous meltdowns. Jemma was awesome at dealing with this and allowed Mae to take things in her stride. Following this we moved from Kickers to Little Dippers, at the same point COVID restrictions were lifted and the class sizes became larger. Mae had issues with this a refused to get into the pool. Jemma suggested that Mae be moved to a quieter class. We did this and Mae went back to enjoying her swimming again.
Jemma takes everything that is different and individual about Mae and just allows her to learn in her own way and own time. I really can't praise her highly enough. She is a credit to the Puddle Ducks team and we are so pleased that she is Mae's teacher. We can't speak highly enough of her."
The nomination was chosen by Lina Higuita, Centre Manager for Barons Quay in Northwich, where we have built our flagship pool. This is what she had to say:
"Selecting a winner for the National Star Teacher Competition was really difficult as the dedication and commitment from each nominee could be clearly appreciated from all the parents' feedback. However, I was particularly touched by the amazing way in which Mae's teacher not only helped her to grow more confident in the water during such a difficult period for everyone but also how she was able to identify and adapt to Mae's individual needs. It is because of the patience and personal investment of Mae's teacher that she was able to progress with her swimming. It is obvious to see the difference that Mae's teacher has made to both Mae and her parents."

More about Barons Quay

Barons Quay is a newly developed shopping centre with top retail brands and leisure in the town centre of Northwich. It is a place where people choose to visit, eat, drink, shop and enjoy. Find out more.

Becoming a Puddle Ducks teacher

It is no surprise that baby swimming teachers are constantly smiling. Their lives are full of happy parents, babies and toddlers, giggles and smiles.

Find out more about doing the best job in the world!

Read more