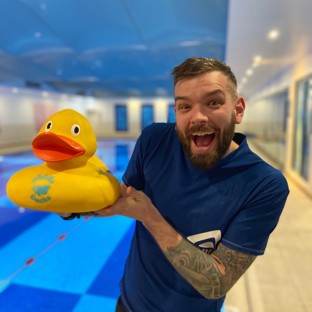 Rob was nominated by nine-year-old Rozalia, and this is what she had to say:

"I would like to nominate my favourite teacher Rob. Because he is kind, supportive, fun and thanks to his help, I am not afraid of water anymore."
The nomination was chosen by Julie White from Children's Hospital Pyjamas, our national charity partner. This is what she had to say:
"If I am totally honest, choosing a winner was far more difficult than I had anticipated. Puddle Ducks, you have an amazing team of swimming teachers and each and every one of you definitely has something very special to offer. As a child I struggled to learn to swim, I was petrified of being in the water and still to this day remember that real fear, as I clung to the side of the pool. Everyone else always seemed to be having fun in the water, I was that child whom each week, clung to the edge, whilst my swimming teacher spent endless hours coaxing me to let go and hang onto her pole so she could drag me along. At the time that didn't even remotely appeal! I chose the winner with these memories in mind. To me this person has all the fantastic qualities that make the winner, kind and compassionate with the amazing end result that every child should be able to say "I'm not afraid of the water anymore ". From my perspective this is so important, to take away that fear. Fantastic, keep up the good work, and happy swimming everyone."

More about Children's Hospital Pyjamas

Children's Hospital Pyjamas are Puddle Ducks' national charity partner, and provide much-needed new pyjamas for children who are having to have a prolonged period in hospital, spreading love through comfort. Find out more.

Learn more

Becoming a Puddle Ducks teacher

It is no surprise that baby swimming teachers are constantly smiling. Their lives are full of happy parents, babies and toddlers, giggles and smiles.

Find out more about doing the best job in the world!

Read more