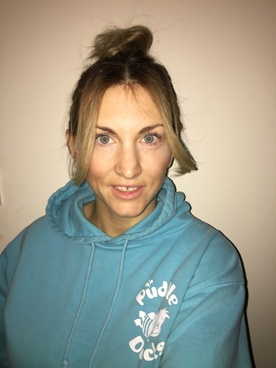 Rebecca was nominated by Rachel, Harrison & Esther and this is what they had to say:

"Rebecca is an absolutely fantastic teacher and she's the reason we have stayed with Puddle Ducks for so long! She has taught both of my children to swim since they were eight weeks old, the eldest now being two and a half years old. During this time my son has gone from being very keen, to having a few lapses in confidence...to being the most confident & enthusiastic child! Everything he does is with a smile on his face and this is due to Rebecca's patience, encouragement & positivity. She is extremely personable, approachable & passionate. In every session she has the ability to engage all the children (and parents!), whilst continually differentiating to ensure every child makes progress in every lesson. Rebecca is a phenomenal teacher and we're so grateful to her for teaching our children confidence in the water and life-saving skills, and for how she has taught them."
The nomination was chosen by Kerry Parr, ex-franchisee for Puddle Ducks Chester & Wirral, and this is what she had to say:
"As a 'retired' Puddle Ducks franchisee and teacher myself, as well as a Puddle Ducks mummy of 2 children for almost 8 years, I have experienced a lot of teachers within my own team and in other franchises. This person's nomination sums up everything I think a brilliant Puddle Ducks teacher should be. Puddle Ducks is all about a journey of teaching a child to swim, be safe in the water and have fun; it doesn't happen over a few classes, but over a long term commitment from the family. This teacher has inspired this family to not only continue swimming with their first child, but also given the family the confidence to bring their younger sibling to the classes as well. She demonstrates everything a great Puddle Ducks teacher should do week in, week out, in every lesson, and with every child and their parent/carer. It's all about building that relationship of trust, engaging every child and grown up (who are so very important in their child's swimming journey) and most importantly treat every child as the individual that they are, ensuring every activity is tailored to their needs to ensure that they progress each week. Our customers are at the heart of everything we do, and this teacher has ensured that this is the case for her little Puddle Ducks and their families.
I would have been very proud to have had this teacher in my franchise, they represent everything that Puddle Ducks aims to achieve. Well done."
Baby swimming teachers come in all shapes and sizes and are bound together with a complete love of their job and shared experiences. It's a fabulous job that still gives you plenty of valuable time to spend with your family.

Find out more