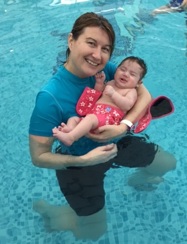 Kelly was nominated by Claire Arnold & Ben and this is what they had to say:

"Ben started with Puddle Ducks at 4 months and enjoyed progressing through the classes, gaining his 5m before starting school in September. Moving into Swim Academy was his first time without Daddy. We hoped for a seamless transition but in the first week Ben became distressed and got out. For the next 4 weeks we continued taking him but he refused to get into the water or even get changed. He was very upset. We were stressed! Rachel the franchisee suggested a move back to Dippers where Sara did a fantastic job, settling him to regain confidence. Kelly then became his teacher and perfectly gauged the right time to try again in Swim Academy. In February Ben joined her Level 2 class and has successfully remained in the pool since. Kelly was patient, encouraging, friendly yet firm. Ben wouldn't be back to his confident swim-loving self without her. Thanks so much"
The nomination was chosen by Dan Nolan, Managing Director of marketing agency theEword, and this is what he had to say:
"It was lovely reading all the stories of how hard all the teachers work and how highly the children think of them. Really brightened up my afternoon! They were all great but I particularly liked the ones where the teachers went the extra mile to help build up confidence and overcome difficulties, working with the parents and the children. You can tell that patience and sensitivity are key traits of Puddle Ducks teachers. Anyway based on that I chose this one as my winner"
Baby swimming teachers come in all shapes and sizes and are bound together with a complete love of their job and shared experiences. It's a fabulous job that still gives you plenty of valuable time to spend with your family.

Find out more

theEword are a lifestyle and leisure agency that helps connect people with places. They specialise in helping brands to communicate their stories to their customers.

Having started life in 2006, the agency gone on to become one of the North West's biggest independent boutique agencies.

If you need to find creative yet proven methods to connect with your target audience, they're the right people.

Learn more