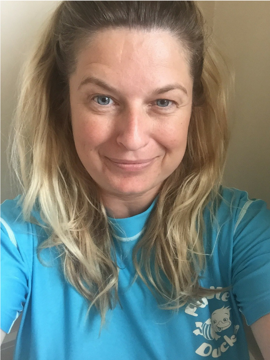 Kelly was nominated by a mum of one of her swimmers, and this is what she had to say:

"I cannot recommended Kelly's classes enough. She is friendly and energetic and makes every lesson enjoyable. Being a first time mum with a disability and suffering severely from Postnatal Depression it's great to be able to find somewhere I can bond with my son without having an anxiety attack or feeling judged. Suffering from PND has made it impossible to attend a lot of things and it's difficult to get out to places but being able to attend a class with a teacher like Kelly makes it the battle a 1000 times easier, as it's nice to be able to have 30 minutes to just enjoy yourself and have someone there for support and a friendly smile."
The nomination was chosen by Fiona Boswell, Head of Franchising and Commercial Services at Fraser Brown Solicitors and this is what she had to say:
"All entrants are clearly valued and exceptional teachers. This teacher has managed to exceed In her role by supporting difficult and complex issues of Postnatal Depression enabling better bonding between mother and child through her class. A great achievement."
Nottingham-based Fraser Brown Solicitors is renowned for giving practical legal advice to its national and international client base on all aspects of operating, owning, running, buying and selling a franchise.

Fraser Brown's highly experienced franchise team have acted on behalf of some of the leading names in franchising across the UK, handling everything from franchise contracts,  property matters to HR issues.

Learn more

Baby swimming teachers come in all shapes and sizes and are bound together with a complete love of their job and shared experiences. It's a fabulous job that still gives you plenty of valuable time to spend with your family.

Find out more