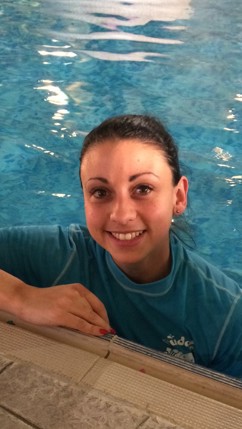 Donna was nominated by Katie and this is what she had to say:

"I wish to nominate Donna as the Teacher of the Term. As I am deaf, she has always made sure that I am involved. She has even learnt some basic British Sign Language (BSL), including the whole songs in BSL, which I was very impressed with because I have often missed out little things like that. Without Donna, I would find the lessons for my daughter boring and would probably not bother about coming back. Because of simple things like being involved with clear communication, that many hearing people took for granted, I can enjoy going to lessons with my daughter."
The nomination was chosen by Mark McNichol of Training Wave who has delivered disability awareness training to the Puddle Ducks Technical Team, and this is what he had to say:
"For me I believe that this teacher has gone above and beyond in recognising that parents are an integral part of a child's learning and it is so nice to hear that they have spent the time and effort learning the skills to help the parent feel a part of the Puddle Ducks family as well as safe and secure within the lessons. To then be able to remember these skills and use all that knowledge in a fast paced swimming lesson is an extremely worthy achievement!"
Donna starred in the videos we made with Butlin's this summer encouraging children to get off screens and #GetActiveAtButlins with some fun family activities you can do in the pool. Watch them all here.

Watch the videos

Training Wave was founded in 2010 to provide high quality, low cost training to the Aquatic and Education industry. It specialises in first aid, health and safety and teaching and learning development.

Learn more