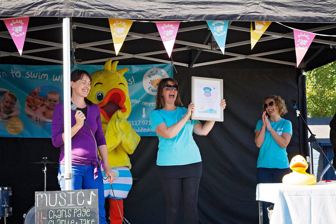 Puddle Ducks began franchising back in 2007, which means that some of our earliest franchises have been celebrating their 10th birthdays recently.
First up was Puddle Ducks Bristol & Bath. Franchisee Sarah Austin's first class took place at Parson Street School pool in Bristol on 8th September 2008. 10 years later and they still swim at Parson Street School, as well as 12 other pools across the region, teaching more than 1,100 swimmers weekly!
To celebrate the occasion, the Bristol & Bath team held a golden duck hunt all throughout the area, as well as a birthday party for all swimmers past and present, where there was live music, giveaways, games, stalls and the chance to meet and greet Puddle the Duck! At this event, Sarah was given a special certificate from Duck HQ to celebrate this milestone, which was presented to her by Freediver Rebecca Coales. Following the presentation, Sarah said "Thank you Duck HQ team for the 10th birthday award. I was made up to receive it. It's been a great September meeting with customers and the pool owners who have helped us reach our 10 year birthday."
Next up was Puddle Ducks Dorset who celebrated their 10 year anniversary on 15th September. Jane Bozic, franchisee for the area launched her first class back in 2008 at the Wessex Hotel in Bournemouth, and now teaches more than 600 swimmers in nine pools across the region, with her growing team of 17.
The Dorset team celebrated the event with special birthday lessons, presents, and Jane was presented with a special certificate from Duck HQ. After receiving the certificate, Jane said "Super proud to receive this this afternoon. Of course I couldn't do it without our swimmers, so here's to all of our wonderful Puddle Ducks families, past and present and of course our Dorset Team of Teachers, Pool Side Assistants and in the Office too!"
Following Bristol & Bath and Dorset, Puddle Ducks Wakefield will be celebrating their 10th birthday in the coming months. Keep your eyes peeled for info on what they're planning!
Franchising with Puddle Ducks

All of our franchisees start off teaching in the water, so they can fully immerse themselves in the product and truly understand their customers. But ultimately, the aim is for you to manage a team of teachers, taking ownership of your own territory and building the business upwards from there.

Find out more