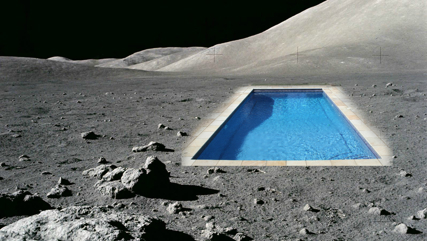 Puddle Ducks are very pleased to announce that they are bringing swimming lessons to the Moon. The launch of a new franchise called Puddle Ducks Intergalactic fuels hope of a new age of space swimming. The reduced gravity on the Moon makes swimming much easier and the innovative Swimspacesuits™ developed by Puddle Ducks mean the lack of air above or below the water is no problem.
Franchise owner April Foolsday had this to say: "When the concept was first suggested to me, I was dubious. However, working with the Head Office technology team members Alan Loveswimming and Mary Swimslikeaduck on the creation of the Swimspacesuits™ has been incredibly fulfilling, and I'm pleased to be bringing swimming back to an area that has lacked the facilities for billions of years."
Thought to have been created around 4.51 billion years ago when Earth collided with another planet, the Moon may have once held water on its surface. Ms Foolsday is hoping that the new style of swimming will produce a new breed of Olympic talent and is looking for customers from all corners of the Solar System.
If you're interested in becoming a Puddle Ducks franchisee, we have territories available in the following locations:

Mars
Ganymede
Io
Europa
Uranus

Find out more