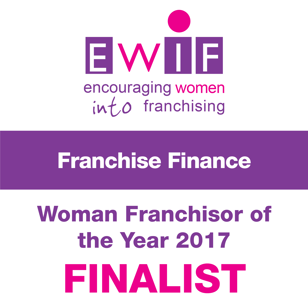 Over the past few weeks we have been very pleased to find out that we have been nominated for two awards! 

EWIF (Encouraging Women Into Franchising) are an organisation that supports women in franchising, providing invaluable help to the 23% of franchisees in the UK that are female, and hoping to grow that number. Puddle Ducks are very proud to be members of EWIF and this is the 4th time in 5 years that our founders Jo Stone and Tracy Townend have been finalists for their Franchisor of the Year award. The awards are designed to bring together the best women in the industry to celebrate their successes, and the winners are announced at an event on 16th May in London.


The second award is the British Franchise Association HSBC Franchisor of the Year Award in Brand Innovation. The bfa was formed in 1977 to "act in the interests of the industry as a whole in assessing and accrediting franchising companies as those which meet its criteria for the structure of the franchise business, the terms of the contract between franchisor and franchisee, the testing of the system and its success as a franchise." Puddle Ducks are full members of the bfa and are active in the work they do, including attending events and forums that they organise, with Puddle Ducks North East franchisee Carolyn Sharpe (who was the bfa Franchisee of the Year 2015) being a guest speaker at one of their forums towards the end of 2016.



The Brand Innovation award is for demonstrating ongoing opportunities for evolution of the company. Puddle Ducks have shown innovation in the following areas; developing a bespoke piece of software for use across the network to enable the franchises to book customers into lessons, take payments for their retail arm, and produce KPI reports, developing their swimming programmes and continually evolving them, being involved in setting standards across the baby and child swimming industry, producing a marketing strategy to benefit the business as a whole as well as each individual franchise, and having a unique, sustainable business model that continues to be successful.

The bfa HSBC Franchisor of the Year awards take place on 28th June at the International Convention Centre in Birmingham.
Puddle Ducks Franchising

You can't teach someone to swim by throwing them in the deep end and seeing if they float, which is why we offer extensive training and support for anyone willing to start their own Puddle Ducks franchise. Puddle Ducks' franchisees receive everything they need to ensure their business is a success, with help from Head Office whenever they need it.

If you're interested in being part of our award-winning franchise, get in touch.

Learn more