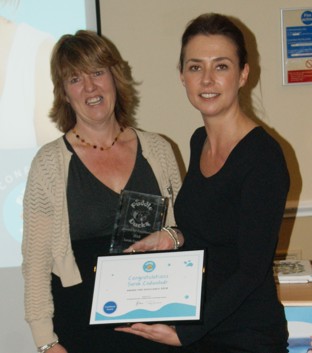 Puddle Ducks held their annual conference on 7th February at Cranage Estate in Cheshire, part of which is the Franchise Awards; two Awards for Excellence and one Franchisee of the Year. The awards were presented by public speaker and "Presenting Queen" Catherine Sandland of White Hart Training.
The first Award for Excellence was presented to Puddle Ducks Merseyside franchisee Sarah Cadwaladr. Only launching in November 2016, Sarah's franchise has gone from strength to strength, and capped off a first year by expanding her territory in December 2017.
Sarah had this to say "We would like to thank each and every Puddle Duck and their family that has supported us over the last 15 months; we know we still have a long way to go and so much more to give to you but this award shows we are at least heading in the right direction and that means so much to us all."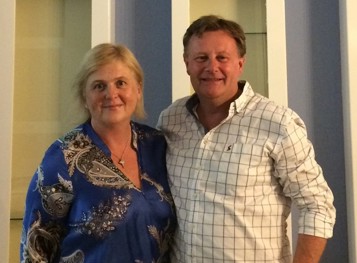 The second Award for Excellence went to Puddle Ducks Nottinghamshire & South Yorkshire franchisees Liz & Phil Gabriel. Liz & Phil have run the franchise since 2009, and in 2017 they bought and refurbished The Key Health Club in Keyworth which features beauty treatment rooms, a jacuzzi, a sauna and a gym, as well as the pool where Puddle Ducks lessons are taught.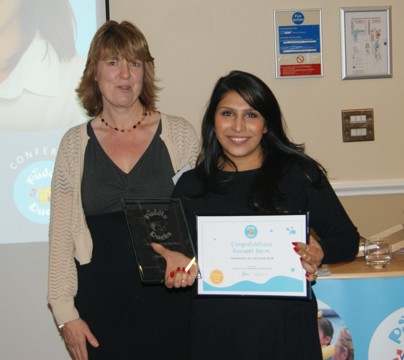 The final award of the night was for Franchisee of the Year, and that was awarded to Ravneet Bermi of Puddle Ducks West Hertfordshire & Luton. Rav has been a Puddle Ducks franchisee for nearly four years, and now has lessons in 7 different pools with more than 10 staff. The decision to award her Franchisee of the Year is clear when you hear what her staff have to say about her: "Rav inspires us to be the best that we can be and never lets us lose sight of the reasons we joined Puddle Ducks to start with. Even when things get a bit tough for our little team and we feel a little deflated, she will get us all together (which may or may not include wine and cocktails) and we are all back to where we need to be. She is a genuine pleasure to work for and I couldn't ask for a more understanding, generous and caring boss. It is because of her loving nature, passion and motivation that we strive to make our franchise the best that it can be."

Rav said this afterwards: "This is an amazing achievement for our business and I would love to thank each and every one of our customers and their families for their continued support and loyalty. We have a dream team that work incredibly hard to ensure that the Puddle Ducks journey and experience is the best that it can be for you all. Here is to another fabulous year!"
Puddle Ducks Franchising

All of our franchisees start off teaching in the water, so they can fully immerse themselves in the product and truly understand their customers. But ultimately, the aim is for you to manage a team of teachers, taking ownership of your own territory and building the business upwards from there.

Ultimately, it's up to you how quickly you grow. Some franchisees like to start by cautiously dipping their toes in whilst others like to dive right in at the deep end — either way, our team will be there to support you every step of the way.

Find out more about franchising with Puddle Ducks

Learn more