Puddle Ducks held their annual conference on 6th February at Cranage Estate in Cheshire, part of which is the Franchise Awards; two Awards for Excellence and one Franchisee of the Year. The awards were presented by McDonald's Franchisee (who also gave a fascinating talk) Anne Wainwright.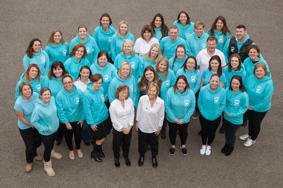 Normally the Awards for Excellence are given to individual franchisees, but for the first award this year, the entire franchise network were awarded, to celebrate a great year for Puddle Ducks.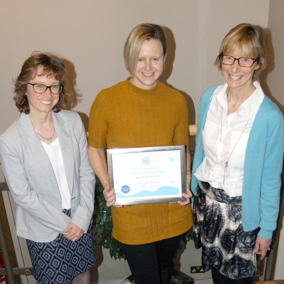 The second Award for Excellence went to Puddle Ducks Gloucestershire franchisee Charlie Goodenough. Charlie launched the franchise in 2011 having previously been a teacher for Puddle Ducks Bristol & Bath. She was recognised for her hard work and innovation in 2018.
The final award of the night was for Franchisee of the Year, and that was awarded to Jenny Brown of Puddle Ducks West Yorkshire. Jenny has been a Puddle Ducks franchisee again since 2011, and has lessons in 9 pools across the West Yorkshire region. She has gone from strength to strength since launching, and regularly helps out pioneering new processes and technology with Duck HQ.
Before awarding her, we spoke to some of her team members to find out what they had to say about her, and it's clear to see why her franchise does so well: "We could not be prouder of our franchisee on winning this award. She is so enthusiastic and dedicated to her business and Puddle Ducks as a whole. She is not just supportive of her own team, but of other colleagues and franchisees, always offering any help or advice she can. She actively encouraged ideas from the team to make improvements to the service we provide. She is a true ambassador for Puddle Ducks."

Several of our franchises have recently celebrated their 10th birthdays, so to honour this, each of the franchisees were presented with a special certificate from our founders Jo Stone and Tracy Townend. Getting to 10 years is a fantastic achievement and each of the franchisees (Sarah from Bristol & Bath, Jane from Dorset, Faye from Wakefield and Cate from Derbyshire) fully deserve their awards!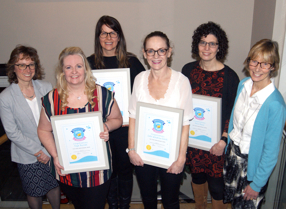 Puddle Ducks Franchising

All of our franchisees start off teaching in the water, so they can fully immerse themselves in the product and truly understand their customers. But ultimately, the aim is for you to manage a team of teachers, taking ownership of your own territory and building the business upwards from there.

Ultimately, it's up to you how quickly you grow. Some franchisees like to start by cautiously dipping their toes in whilst others like to dive right in at the deep end — either way, our team will be there to support you every step of the way.

Find out more about franchising with Puddle Ducks

Learn more