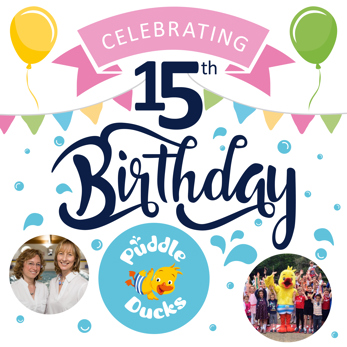 15 years later, Puddle Ducks is one of the largest swim schools in the UK, teaching just under 20,000 babies, toddlers and children to swim each week in England, Wales and Scotland.

When Jo Stone and Tracy Townend met during antenatal classes while both pregnant with their first children, they quickly struck up a close friendship. They had many shared interests, the most important being an ambition to succeed in business, the need to strike a work-life balance, and a desire to pass on the joy of swimming to babies and children. They realised that their corporate careers were not right for them, so both gave them up and in 2002, after much planning, research and training, Puddle Ducks was launched.

There have been some huge achievements along the way, including:
Turning the company into a franchise business in 2007.
Winning the Continuous Improvement Award at the Best Franchise Awards for 2 years running, and also winning Best Overall Franchise twice.
Becoming Full Members of the British Franchise Association (bfa).
Being awarded the Smith & Henderson 5 Star Franchisee Satisfaction Award for 5 years running.
Winning the EWIF Woman Franchisor of the Year Award in 2017.
Puddle Ducks North East franchisee Carolyn Sharpe winning the bfa Female Franchisee of the Year and Puddle Ducks Greater Manchester franchisees Gary & Suzanne Horton winning the bfa Franchisee Innovation Award.
Expanding to 35 franchises in the UK, with around 300 teachers taking lessons in 332 pools.
Launching successful Aquanatal classes for mummies-to-be.
Launching Swim Academy for primary school aged children, providing more than 600 weekly classes.
Jo didn't think Puddle Ducks would grow to what it has: "I can't quite believe that it all started 15 years ago! Tracy and I are very proud of what we have all achieved in that time. We certainly couldn't have done it without each and every one of our staff, franchisees, and most of all, little swimmers, so we want to thank you all."
Jo and Tracy's original ethos has never been lost and is reflected in the Puddle Ducks Mission Statement: "We want every child to love swimming, respect the water and swim beautifully. That's why our standards are the highest and our approach is unique"
Franchising with Puddle Ducks

All of our franchisees start off teaching in the water, so they can fully immerse themselves in the product and truly understand their customers. But ultimately, the aim is for you to manage a team of teachers, taking ownership of your own territory and building the business upwards from there.

Find out more

Teaching with Puddle Ducks

Baby swimming teachers come in all shapes and sizes and are bound together with a complete love of their job and shared experiences. It's a fabulous job that still gives you plenty of valuable time to spend with your family. Good swim schools provide excellent training, which usually consists of an intensive course followed by on-the-job training and Puddle Ducks teachers are among the most highly trained in the industry.

Find out more