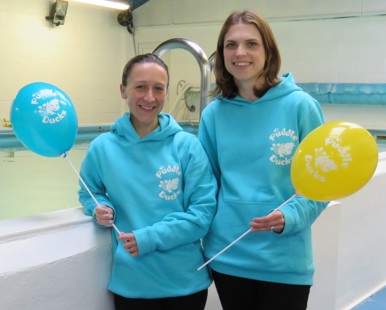 We are very pleased to announce that Puddle Ducks classes are now available in North Kent and Cherwell & Aylesbury Vale!

Puddle Ducks North Kent is being run by sisters-in-law Jo Tring and Jane Clark who currently have Baby & Pre-school classes at Cecil Road Primary School in Gravesend.

Both franchisees had been Puddle Ducks customers, with Jo (who was already very active, being a keen horse-rider and skier) becoming a Puddle Ducks teacher after leaving a marketing job in London to have her first baby, Lewis: "I love teaching and feel very passionate about Puddle Ducks so when the opportunity to buy a franchise came up it was something that really appealed to me."

Jane was unhappy in her job working for the Government and was looking for a career change: "I was a Puddle Ducks customer and loved it (Jo was my youngest son Max's teacher). I'd been to several swimming schools with my older boys but Puddle Ducks was something else. Jo mentioned that the North Kent area was available so we decided to go for it together!"

Both ladies thought there was a lot of work to do when launching but it was worth it: "Receiving our first customer booking within half an hour of the website going live was a big high. Every day that we receive a new enquiry or booking is so exciting and we have been completely overwhelmed with the response so far."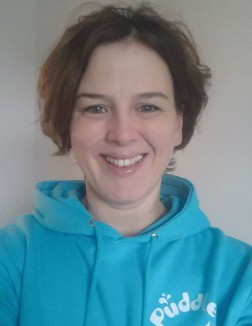 Puddle Ducks Cherwell & Aylesbury Vale franchisee Emma Nicol was also very active, participating in runs and triathlons while she was an HR Operations Manager. "I took my daughter to swimming classes while I was on maternity leave and loved the experience. It planted a seed in my mind career-wise as well; I think this is something I'd like to do! A job that would allow me to balance my family life with my work, combined with being able to teach children a life skill that I feel really passionate about."

"Franchising seemed to be the best option for me, and Puddle Ducks stood out as an organisation that had the best level of support not only in terms of the extensive technical training and business support, but also across the network with other Franchisees supporting each other, sharing best practice and ideas."

Emma's lessons take place at Green Park in Aston Clinton, Reflexions in Aylesbury, and Wendover Community Pool.

All 3 franchisees are bold and ambitious, just like the rest of the Puddle Ducks network. They are all looking to expand their areas and build a team of staff allowing them to achieve the right balance between home and work.
Puddle Ducks North Kent

The lessons in North Kent take place at Cecil Road Primary School in Gravesend on Tuesdays & Saturdays.

Find out more about lessons in North Kent.

Learn more

Puddle Ducks Cherwell & Aylesbury Vale

The lessons in Cherwell & Aylesbury Vale take place at Green Park in Aston Clinton on Wednesdays, Reflexions in Aylesbury on Wednesdays, Thursday & Fridays, and at Wendover Community Pool on Thursdays & Saturdays.

Find out more about lessons in Cherwell & Aylesbury Vale.

Learn more

Puddle Ducks Franchising

Just like the children we teach, a Puddle Ducks franchise is completely unique. It's an investment that allows you to do something you love and turn it into a profitable business. All of our franchisees start off teaching in the water, so they can fully immerse themselves in the product and truly understand their customers.

Find out more about franchising with Puddle Ducks

Learn more